The CTNVC depends on the generous support of friends like you to ensure the endangered whooping crane, sandhill cranes, and other migratory birds continue to thrive along the Platte River for years to come. Help us make a difference with an annual Crane Trust Nature & Visitor Center membership of $50.
Your Membership Helps Support
Free tours and educational programs for youth organizations
Trail and bridge maintenance
Crane viewing blinds upkeep and maintenance
Keeping the river cleared for the largest roost of Sandhill Cranes in the world
Membership Benefits
10% discount in the Crimson Crown Gift Shop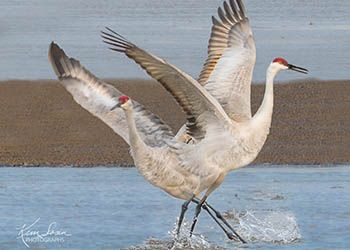 The Crane Trust Nature & Visitor Center (CTNVC) is situated in a captivating, one-of-a-kind location on the scenic Platte River in south central Nebraska, minutes off I-80 at Exit 305. The CTNVC has evolved into a major tourist attraction hosting over 35,000 visitors each March during the Sandhill Crane migration and an estimated 60,000 annually  – from all 50 states and over 63 foreign countries.
Your membership is the lifeblood of the Crane Trust Nature & Visitor Center's work, providing vital support for daily operations, community outreach and education programs for students, conservationists and outdoor enthusiasts of all ages. We truly appreciate you making our mission possible.