April 2019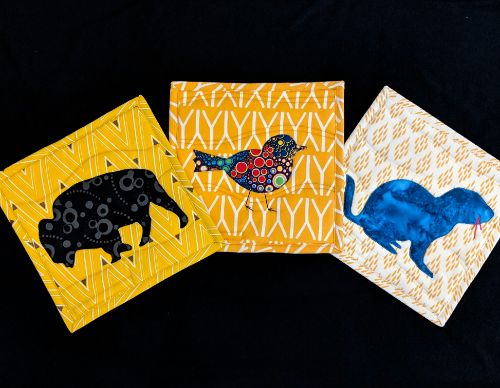 Kris Khan is an artist who works with fabric the way a painter works with paint, or a sculptor works with clay. Textiles are Kris Khan's medium for interpreting the beauty of the built and natural environment around her. Her work is influenced by her life experiences as a nurse, parent, traveler, and friend. She is also inspired by the work of modern artists such as Wolf Khan and Nancy Crow. Kris Khan likes to work with natural fibers in vibrant, saturated colors. Her works are free-motion quilted on her home sewing machine and sometimes are embellished with special fibers, beads, or found objects. Kris Khan's designs usually evolve in an improvisational manner and are sized from very small (6" square) to bed-sized (80"x96"). She creates her machine quilting designs by doodling on paper, and by replicating patterns seen in the natural world, such as waves or leaves.

She has loved fabric and fibers since she was a child, and she taught herself to sew doll clothes at the age of 8. She was given her first sewing machine at age 14 and has never put it away since. Kris Khan first tried quilting in 2002 when her arm was in a cast, figuring she could make quilt blocks one-handed. 144 blocks later, she had made her first quilt and has never looked back. She fell in love with the pure design of quilt making – no curves to accommodate, no drapes to be fitted to windows. In 2011, she retired from her nursing career to focus exclusively on her art.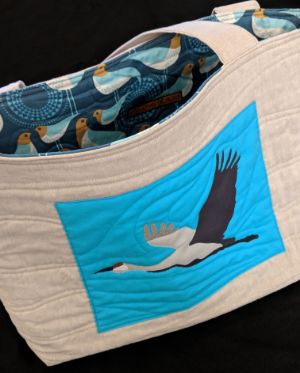 Kris currently works in a studio at Hot Shops, an old building in Omaha divided into about 50 artists' studios. It is something of a tourist destination and, as such, she receives many visitors to her studio while working. Interacting with the public, explaining what she is doing, and describing her artistic process, are some of Kris Khan's favorite things about her work.  She finds people to be fascinated by the sewing machine, and by the realization that quilt making really is as labor-intensive as it looks. Kris Khan always points out that the first quilters (and still some today) complete the entire process by hand; in the old days, the work was done by firelight or candlelight! We have her tote bags and pot holders available for purchase in the Crane Trust Nature and Visitor Center gift shop.
---
March 2019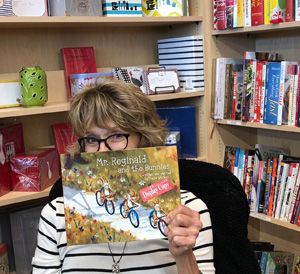 Paula Wallace is a working artist, maintaining a studio at the Hot Shops Art Center in Omaha, Nebraska. In addition to fine art, Paula has worked as an illustrator and muralist, a curator and an arts facilitator. She has been involved in liturgical and public art, interior design and privately commissioned work. Paula also collaborates regularly with other artists, writers, and musicians.
Much of her work as an artist began years ago and likely, truth be told, at the very beginning—woven into her DNA and nurtured with crayons and love. She studied formally at Iowa State University and the University of Iowa, in addition to a smattering of coursework in Ireland, Chicago, and elsewhere. 
Much of her work has found its genesis in literature, theater, music, or the spiritual. While most of her work is figurative with an emphasis on the human face, her range of styles may be from representational to whimsical. Often, she employs an uncluttered or almost austere background, permitting the viewer to be wholly engaged with the subject of the painting or print, concentrating on the intimacy of that encounter, the imperative of a glace or gesture.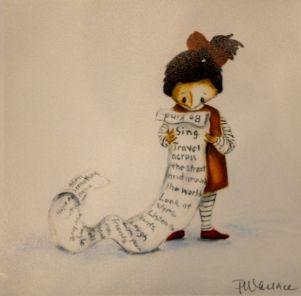 Art is the language of her work: to delight in beauty and to share the human experience are aspects of that language. Her work is held in many private and public collections, both here and abroad. 
The Crane Trust Nature & Visitor Center was fortunate to have Paula present her work in person on Saturday, March 16, 2019. Paula has kindly donated a beautiful 10x10 print (top right) which visitors can qualify to win by donating $5.00 or more to the Crane Trust and by placing their name into a drawing. The drawing will take place on April 15th, 2019 and we will be announcing the winner at that time. Please see details in the Crimson Crown Gift Shop at the Crane Trust Nature & Visitor Center, 9325 South Alda Road, Wood River, NE 68883.
---
February 2019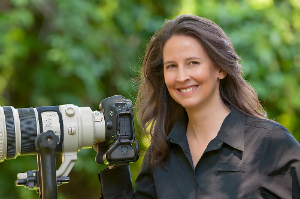 Journey into a captivating world of sunswept limestone contours, mysterious ancient architecture, majestic elk crossing misty waters, and the crimson cheeks of a curious child captured through the eye of award-winning photographer Cheryl Opperman.  Her bold images provide a vivid bridge directly into the heart of countries, indigenous peoples, wildlife, and landscapes spanning the globe.

An extensive list of credits for organizations and publications including the American Humane Association, Overseas Adventure Travel, The Denver Post, Ducks Unlimited, Apple and the National Geographic Society result from her alluring exploration of over 20 countries on seven continents.  Cheryl's esthetic compositions, artistic use of light, and exquisite detail have been honored with several prestigious awards including the Grand Prize in professional category of the "Ultimate Image of Earth" international contest for Earth Day 2000, the "People in Nature" Category Winner in the 2003 Nature's Best International Photography Awards, First Place for Travel/Tourism photography in the 2004 International Photography Awards, First Place "Birds" in the professional category of the 2006 National Wildlife Federation Photography Awards, and the "Wildlife" Category Winner in the 2015 Windland Smith Rice International Awards.  She has been interviewed on camera by 9News television in Denver, Colorado, the Luminous Landscape, and Smithsonian Earth.  She was also featured as a leading female nature photographer by Outdoor Photographer Magazine.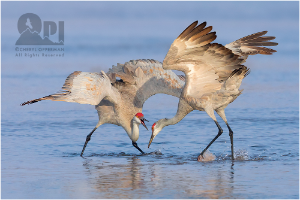 Her photographs have been displayed in solo and group exhibitions across the country at notable venues including the Temple Hoyne Buell Theater, Boettcher Concert Hall, and Denver International Airport in Denver, Colorado and the Smithsonian National Museum of Natural History in Washington DC.

Employing the power of photography to inspire interest in the environment and other cultures, she has presented slide shows or classes on various topics to schools, camera clubs, the Intermountain Regional Headquarters of the National Park Service, the North American Nature Photography Association, and the Crane Trust.  Cheryl is a 1992 honors graduate of Brooks Institute of Photography in Santa Barbara, CA holding a Bachelor of Arts degree in Industrial/Scientific photography.
Cheryl is also the Crane Trust's Photography Instructor for our VIP Photo Workshops and Safaris. Her background allows her to show growing photographers the best techniques to photograph the cranes in our workshops. While our Photo Safaris gives professional photographers access to our photo blinds, a mere 5 feet from the river bank, so they too can capture amazing photos. If you are interested in coming to take photos during the peek of the Sandhill Crane migration please call Nikki Chavez at (308) 833-3808. Limited space is available!
---
January 2019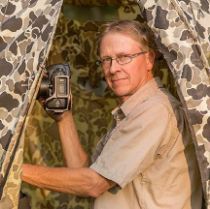 Rick Rasmussen is a native of Central Nebraska and has been an avid nature and wildlife photographer for over 35 years.  While he has traveled to many locations around the world to capture captivating images of nature and wildlife, he is best known for his timeless images of the Sandhill Crane migration near his hometown.  Rick has received numerous awards including two international awards in Nature's Best Magazine.  He has also been published in Nebraskaland, Nebraska Life, Wyoming Wildlife and Duck's Unlimited magazines.  His images not only capture the beauty of nature, but they are an important symbol of his commitment to its preservation

Catch up with Rick on Facebook at Platte River Photography or stop into the Crimson Crown Gift Shop and Hornady Art Gallery inside our Nature & Visitor Center to view and/or purchase one of his beautiful photos.
---
December 2018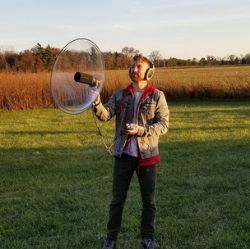 Hot off the press, Ben Gottesman and his team created this new CD - 'Sounds of the Migration' from recordings of nature out on Mormon Island on Crane Trust land. We very often get asked if we have anything that visitors can listen to in order to bring back their fond memories of what they heard in our blinds on the side of the Platte River, during the spring migration. We now have a beautiful CD full of the calls of the cranes for visitors to listen to in the comfort of their homes. Put your feet up, relax, close your eyes and enjoy…
Come down to the Crimson Crown Gift Shop in our Nature & Visitor Center to grab a CD and always be able to hear the sounds of the great Sandhill Crane migration! 
---
November 2018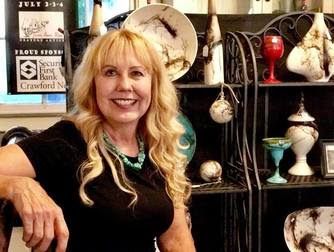 Shelia Litke, from Blue Creek Pottery, has featured her pottery at the Crane Trust Nature & Visitor Center gift shop for a couple of years now. We enjoy describing to visitors how she makes a variety of pieces, using real burned-on bison hair, each with its own unique squiggly pattern.

Each pot is bisque fired and later the bisque is heated in the kiln and the bison hair is laid against the hot surface. The hair attaches itself to the hot pot and begins to burn. As the ash forms, a small deposit of carbon is absorbed into the clay surface, leaving a permanent trace of the bison hair.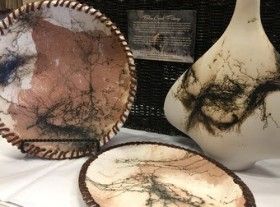 Catch up with Shelia on Facebook at Blue Creek Pottery or stop into the Crimson Crown Gift Shop and Hornady Art Gallery inside our Nature & Visitor Center to view and/or purchase one of her beautiful products for your own space or as a gift for the upcoming holidays.
---
October 2018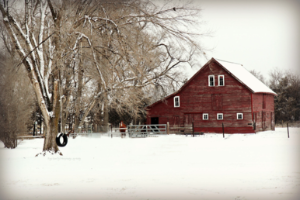 It took Kathy Chase five years, thousands of miles and more than one unexpected adventure to create her collection of prints, calendars, cards, magnets, ornaments and postcards. New to the Nature & Visitor Center gift shop this year, Kathy's products have created quite the buzz.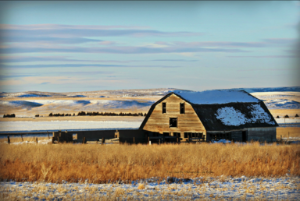 Visitor's often remark on how they recognize many of the barns featured in Kathy's products, sometimes from places in Nebraska they have visited and sometimes warmly remembered from their hometowns.

Catch up with Kathy on Facebook at Days Gone by Photography by Kathy