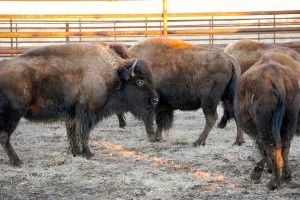 The Crane Trust hosted an event celebrating the arrival of a herd of 41 rare, genetically-pure bison to 4,500 acres of Crane Trust land along the Platte River. The bison herd – descended from a genetically-pure herd raised on a ranch near Crawford, Nebraska, arrived in three stages: cows and calves first and then two 7-year-old bulls arrived separately a few days later – on their own schedule.
Amongst the 70-plus greeters at the Crane Trust, was Louis LaRose, a member of the Winnebago Tribe and a long-time advocate of bison restoration to empower and educate tribal youth and communities about their historical and cultural connections to bison. Louis LaRose welcomed the bison home and lead the crowd in a blessing over the herd.
This is the realization of a 2-1/2 year effort to reintroduce bison to their original home on native Nebraska prairie – extensive training with a small herd, installing 2000 acres of bison fencing and building a catch pen. The presence of the buffalo herd will assist the Trust with key scientific studies to determine the effects of bison grazing on native prairie and on the habitat for the sandhill and whooping crane migration.
"The bison will be grazing on the largest piece of tall and mixed grass prairie left in Nebraska, just as they did for thousands of years. As a lifelong Nebraskan who grew up in a small town in Northeastern Nebraska, the historical impact of the bison return is very exciting," said Chuck Cooper, President and CEO of The Crane Trust.