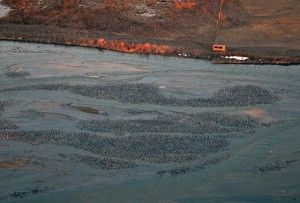 A regional biologist told some interested birdwatchers that the cold weather could delay peak Crane Migration until early April. After some investigation of Sandhill Crane data by the Crane Trust's Lead Biologist, Andy Caven, it does appear that our numbers are a bit low comparing to recent years for this same time period, but the variability in these numbers from year to year is extremely high. The Crane Trust's official (river) count for March 3, 2015 was 14,200 Sandhill Cranes in one population on three adjacent sandbars surrounded by the river channel, with an additional 1,100 detected off-channel out in the field. This accounts for a total of 15,300 spotted. These were all located on the segment of land between the bridges of HWY 281 and Alda Rd.
The numbers for 2014 demonstrate a steady increase in crane numbers as spring eased into presence:
March 6th, 2014: 20,000
March 10th, 2014: 24,300
The numbers for 2013 demonstrate a radical jump in Sandhill Crane numbers for the comparable two weeks of flights:
February 28th, 2013: 26,700
March 7th 2013: 73,000
On the Platte River between Chapman and Overton, NE (90 miles of river), including 23 separate roosts larger than 100 birds.
In conclusion, what we saw was not only an increase in numbers, but the large roosts breaking into more evenly distributed smaller ones. We still have a pretty consolidated roost at the moment. Drastic changes like those highlighted by the 2013 migration often come from ideal conditions, such as a north wind and warming weather.
We are currently monitoring four GPS tagged Lesser Sandhill Cranes with our partners at Texas Tech. The migration does not always follow the "standard normal distribution," a statistics term commonly referred to as the "bell curve." Many phenomena do fall into this pattern: starting slow, reaching a peak, and declining, forming an evenly constructed figurative "bell." However, the right weather could bring an enormous amount of cranes at once causing a late migration increasing slowly, reaching a peak in late March or early April, or we could have a huge increase in numbers at some point followed by a slow tapering off.
Andy said, "I think we will see a break in the cool weather by March 5th which could have an abundance of Sandhills reaching us in a half week to a week. Thus, we could expect a great increase by mid-March if the weather cooperates."
Latest Sandhill Crane Estimated Numbers:
March 2, 2015: 14,200
March 9, 2015: 62,202
March 16, 2015: 113,000
March 23, 2015: 142,000
March 30, 2015: 203,000
April 6, 2015: Due to poor weather conditions, aerial counts were not conducted.
April 13, 2015: 475 (Final Count)