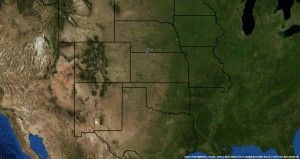 In the Crane Trust Winter e-Newsletter, we touched on our partnership with researchers from Texas Tech University in order to deploy GPS tracking devices on four Lesser Sandhill Cranes (Grus canadensis canadensis). The cranes were fitted with the tracking devices while at their winter grounds in northwest Texas near Muleshoe National Wildlife Refuge.
The tracking devices on the Lesser Sandhill Cranes allow us to follow these four individuals on their entire spring migration, as they travel from their winter grounds in Texas, through the Central Flyway, all the way up north. We hope to see exactly where the cranes settle in Canada, Alaska or maybe even Siberia in the coming months.
As the cranes make their way through Nebraska and beyond, we will continue to update you on their progress through this blog, Facebook page and at the Nature & Visitor Center (9325 S Alda Rd, Wood River, Nebraska). The map below depicts Crane 890 which was the first of four to make it to Nebraska.
Crane 890 Notes: Crane 890 left the area north of Muleshoe National Wildlife Refuge, Texas on March 12, 2015 at 11:58 heading northeast over the narrow west portion of Oklahoma.  At 16:47 the crane was flying over west central Kansas at 29mph.  At 21:29 the crane had a stopover in northern Kansas near the central west border of Kansas and Nebraska.  The stopover site was at Keith Sebelius Lake near Norton, Kansas, and south of Prairie Dog State Park. March 13, 2015, crane 890 flew northeast and stopped  in an agriculture field at 07:05 to likely feed.  At 11:49, crane 890 was flying over southern Nebraska at 23mph. The crane then spent the night in southern Nebraska at a pond or wetland in an agriculture area east of HWY 283 and north of HWY 34 .  The next morning, on March 14, 2015, crane 890 foraged north of that pond at 06:58.  At 16:29, crane 890 landed on the North Platte River by the town of North Platte, Nebraska. It is still in that area. The other three cranes are currently in Texas.
As of April 1, 2015, Crane 890 is still in Nebraska near the town and river of North Platte. 
Crane 891, 892, 893 Notes: Crane 893 left the Muleshoe National Wildlife Refuge area on March 27, 2015 and stayed in the same region of northwest Texas as Crane 892.  Crane 893 seems to be using the same habitats as Crane 892 and has even landed in almost the exact same previous locations even though they do not appear to be traveling together. Crane 891 left the Muleshoe area on March 30, 2015 and is also using similar habitats in northwest Texas as Crane 892 but remains a little more south overall. Crane 893's last GPS signal showed it flying over the Oklahoma panhandle and into southwest Kansas at 47 mph. As of April 1, 2015, Crane 892 is still in northwest Texas.
Crane 893 Notes: Crane 893 left southwest Kansas on March 31, 2015. The crane traveled at 38 mph through western Kansas heading toward southwestern Nebraska. Crane 839 was tracked flying over southern Nebraska south of Spring Creek and north of Enders Reservoir State Recreation Area at 4:15 pm traveling 25 mph. Crane 893 stopped for the night in Nebraska at 9:00 pm, northeast of Lake McConaughy and east of Crescent Lake National Wildlife Refuge. The flight would have encountered wind gusts from the south as high as 28 mph. The next tracking point for Crane 893 placed it in northwest Nebraska east of HWY 61 and south of the Niobrara River at 1:51 am on April 1, 2015. Later on April 1, 2015 Crane 893 was tracked flying through southwest South Dakota at 31 mph at 4:04 pm. The crane spent the night at a pond north of the White River on the Pine Ridge Reservation in South Dakota.  
April 8, 2015 Update: 
Crane 890 left the North Platte River in Nebraska on April 4, 2015 spending the next day and night in northwest South Dakota. Crane 890 also continued on through Montana and is now residing in southern Saskatchewan, Canada.  
Crane 891 made it up to the North Platte in Nebraska on April 2, 2015 but moved on quickly spending the next night near the Niobrara River in northern Nebraska. After foraging along the Niobrara River, Crane 891 moved quickly through central South Dakota to spend the night of April 4, 2015 in southern North Dakota. Crane 891 is currently in northwest North Dakota using the invaluable prairie pothole region habitats near the city of Minot. 
Crane 892 finally left Texas and is currently using habitat around North Platte, NE. Crane 892 took a similar path as the other three cranes through the panhandle of Oklahoma and west section of Kansas up to the North Platte River to stay a while. 
Crane 893 left South Dakota on April 4, 2015 heading northwest into Montana where it currently resides in the north-central region of the state. 
April 28, 2015 Update:
All four Lesser Sandhill Cranes with tracking devices are currently in Saskatchewan, Canada.  Crane 892 and Crane 893 are remaining in the southwest portion of the province within 30 miles of each other.  Crane 891 and Crane 890 are remaining in southcentral Saskatchewan also within 30 miles of each other.  They all took a similar rout from the Muleshoe National Wildlife area of Texas through western Oklahoma, Kansas, Nebraska, South Dakota, and North Dakota or eastern Montana.  This project helps to highlight that although we do the best we can to estimate crane numbers coming through Nebraska with our aerial surveys, there are many more that go unnoticed including all of those that move through the western portion of the state near the city of North Platte.  Although there are important habitats all along the central flyway for both Sandhill Cranes and Whooping Cranes, Nebraska's Platte River system continues to be extremely important and efforts to conserve habitat around it are crucial to the survival and well-being of North America's two crane species.