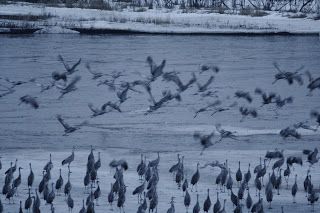 Prospective crane-viewers ask this question frequently. Here's the simple answer for those planning a trip to Nebraska: mid to late March gives you virtually a 100% chance of seeing plenty of sandhill cranes. Casual crane viewers need not read further.
If you continued on to this paragraph, perhaps you're a birder, or someone who simply wants to know a little more . . .
This brings us to our more nuanced answer: The entire month of March, plus early April, can be excellent for sandhill crane viewing in Nebraska. The time you choose will depend on you and your expectations. Are you looking to fill an empty check box or two on your life list? Are crowds OK, or are you the type who likes some space between you and your fellow birders? Willing to take a chance on getting "skunked" to view or photograph the cranes in circumstances not seen by most people?
Viewing prospects for the cranes — and other area wildlife — change noticeably through March and the first week of April. So we'll split this period into three smaller pieces — early, middle and late — and describe what you might see within each.
Early (first half of March): Although the first sandhill cranes can be seen as early as mid-February – which is the case for this 2016 migration, large numbers often don't appear until the start of March. Timing of early arrivals can vary considerably from year to year, depending in part on the severity of the current winter. Long spells of exceptionally cold weather in the Platte River valley can delay the migration, making viewing in the first week of March a little dicey. Nonetheless, some of my fondest crane-viewing memories — and more interesting photographs — have come during this time. This past image from early March shows cranes roosting on ice patches within the river:
Early March also sees large flocks of snow geese piling into ponds and wetlands, sometimes by the tens of thousands. While stunning to watch, these high concentrations can result in outbreaks of avian cholera, which kill thousands of geese. Snows also fall as prey to bald eagles, a frequent sight at this time. Adult balds in flight make magnificent viewing, but are mixed blessings for crane watchers; cranes recognize eagles as predators and will sometimes bolt from a river roost before an eagle flyover. These sudden en masse takeoffs are spectacular but short-lived experiences, sometimes bringing a guided crane tour to an abrupt end.
Middle (latter half of March): As mentioned, this is the usual peak of the sandhill crane migration, with estimates ranging up to a half-million birds in the central Platte valley. However, this "peak" can be misleading. Research shows the first crane arrivals generally use the portion of the Platte south of Grand Island and Alda. As a certain portion of habitat can only hold so many birds, new crane arrivals begin to fill in suitable portions of the river further west. So while more cranes may be in the region as a whole, you may not notice much difference in one particular spot on a day-to-day basis. Even so, this period is generally the best and safest crane-viewing bet, particularly if this is a once-only trip. Here's a typical view from one of our blinds:
Not surprisingly, this time also sees the peak of human visitation; those wishing to take guided viewing tours are encouraged to make reservations well in advance.
By this time, the snow geese and many of the bald eagles have usually left the region. A few species of waterfowl might be found on ponds, the river and particularly in the Rainwater Basin south of the Platte River.
Late (early April): While viewing occasionally peaks around this time, in most years sandhill cranes begin to leave as April opens, with many birds gone by mid-month. Also, the cranes' main source of food — waste corn from the previous fall's harvest — runs low in fields near the Platte River, forcing the birds to spread out as far as 12 miles either side of the river. Flocks at this time are often more dispersed.
Even so, this viewing time offers advantages. The evening gatherings along the river are still awe-inspiring, with longer, warmer days and later sunsets making for more comfortable conditions. Spots in guided tours are much easier to come by as visitation slows. With remaining cranes often full of corn and less in need of finding food, they'll sometimes linger in one place for longer stretches. They also seem to congregate nearer roadsides, allowing views such as this:
This time is also your best chance of catching a rare whooping crane. With about 300 or so in the wild flock, your odds of seeing this tallest of the North American birds are slender at best. If you're lucky enough to spot one, please do not approach it. Contact Whooper Watch and enjoy this rare and magnificent sight — even if it doesn't allow an award-winning photograph.
As the sandhill show winds down, the region's other major bird attraction — the displays of the grassland grouse — begins to hit high gear. While most habitat of the greater prairie chicken and sharptail grouse in this area has fallen to the plow, their mating dances can still be seen, particularly in the Sandhills region to the northwest.
Keep in mind that, no matter when during the migration you look, day-to-day weather plays a major role in how the cranes behave. A warm, sunny day may keep them in the fields longer, where as a windy, snowy day often brings birds to the river well before sunset. If you're traveling here specifically for the sandhill show, allow for at least two days of viewing if possible, just in case inclement weather during one day doesn't spoil your entire trip.