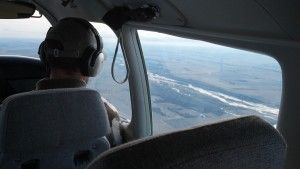 The total count on Tuesday, February 23, 2016 was 82,100 Sandhill Cranes with an error of +/- 8.4% (+/-6,900 birds) calculated from photo subplots (aerial photos taken and full counts completed in the office and compared). However, that error rate demonstrates a downward bias in my aerial counts as compared with photo subplots – the aerial count was consistently lower. Slightly over half of the SACRs were on Crane Trust property totaling 41,100. This totals about 28,400 Cranes roosting along Mormon Island and 12,700 roosting along Shoemaker Island where we have our blinds. The bunker blind on Mormon Island is the place to be at the moment! As you can see from past years this is likely an unprecedented number of cranes for a late February count. This is not surprising in some ways as we had about 5,000 overwintering in the area.
Late February Total Sandhill Crane Counts from Aerial Surveys
(Select Years to Demonstrate Normal Variation)
Feb 23, 2015: 10,200
Feb 26, 2014: 4,350
Feb 28, 2013: 26,050
Feb 28, 2006: 5,600
Feb 28, 2005: 29,400
However, and I want to caution everyone, it's not time to start making predictions (something rarely worth the breath in biology) or getting worked up about an early migration peak. The US FWS (2014) estimates that there are 563,200 Sandhill Cranes that came through the Central Platte River Valley in 2014. I use this number to illustrate a point. In 2015 we counted 565,250 Sandhill Cranes during our flight surveys from February 16th to April 13th along the Big Bend Region of the Platte River (Chapman to Overton, NE). In 2006, Crane Trust Biologists counted 750,100 Sandhill Cranes along the same route and within about the same date range. Why the difference? Well, in 2015 the Sandhill Cranes came a little late in great numbers and left pretty quickly. We had just over 100 Sandhill Cranes on our final survey in 2015 (April 13th). In 2006 the Sandhill Cranes stayed longer so Crane Trust biologists "double or triple counted" more birds. If the cranes stay for a longer duration the total yearly count from our river roost surveys will go up. I estimate that we double counted very few birds in 2015, this point is illustrated by how close our count was to US FWS estimates of the number of cranes in the Central Platte River Valley. Phenology is "the study of the timing of seasonal biological activities" (Haggerty and Mazer 2008). This term was "introduced in 1853 by the Belgian botanist Charles Morren and is derived from the Greek words 'phaino', meaning 'to appear, to come into view' and logos, meaning 'to study'" (Haggerty and Mazer 2008). The National Oceanic and Atmospheric Administration's (NOAA) "Global Analysis" for January of 2016 demonstrates that last month was globally the warmest January on record, topping the previous record from 2007. Climatic events like this seriously affect the timing of biological events. I have no doubt a very warm January has had some impact on the Sandhill Cranes arriving early in such numbers. This coincides with other bird migration events. On our aerial surveys we also count dark geese (Canada Goose, Cackling Goose, etc.), American White Pelicans, and Whooping Cranes. The number of dark geese on the river plummeted from 9,100 on our survey last week (2/16/2016) to just 450 this week suggesting that they have already started moving out of the area in high numbers. We will continue our counts as always until mid-April and will keep you posted.