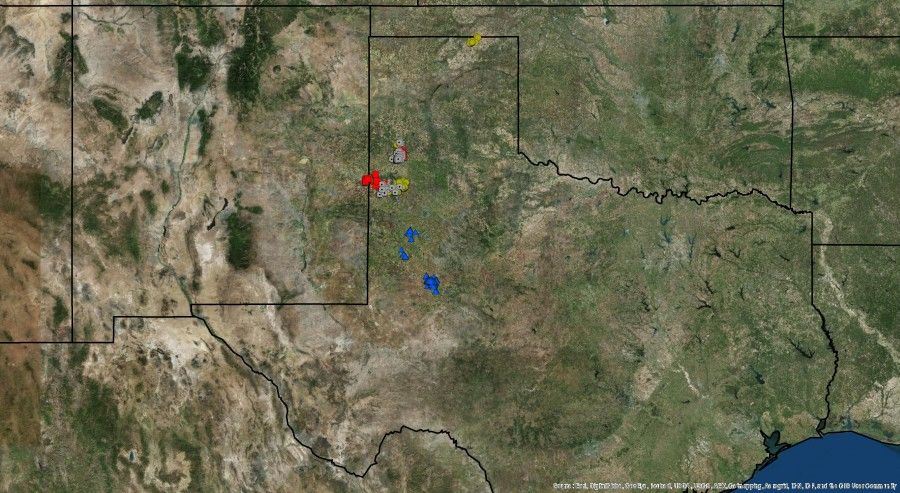 Four sandhill cranes that the Crane Trust has been tracking spent the winter in northwest Texas, close to where our partners from Texas Tech first put tracking devices on the cranes' legs one year ago. The tracking device is called a platform transmitter terminal (PTT) and it sends signals to satellites containing information including the location of the crane, the speed of travel, and altitude. This information can be downloaded by biologists to better understand how sandhill cranes use habitats during winter, migration, nesting, and summer.
Our four tracked cranes are Slate, Indigo, Olive, and Crimson; cranes 893, 892, 891, and 890 respectively. Last year, we watched as Slate and Indigo traveled through Alaska, across the Bering Strait, and into Siberia to establish a nesting territory and to spend their summer. Then biologists watched the migration in reverse as they made their way down to Texas for the winter.
Slate, Olive, and Crimson spent most of the winter near playas around the Muleshoe National Wildlife Refuge and Playa Lakes Wildlife Management Area west of Dimmitt, TX. However, Crimson also spent almost all of January and part of February in New Mexico on the Salt Lake at Grulla National Wildlife Refuge. Grulla is actually the Spanish word for crane and the refuge has been set aside as wintering habitat for lesser sandhill cranes and waterfowl since 1969. Indigo spent much of the winter further south than the other cranes; near Red lake and surrounding playas northwest of Big Spring, TX.
It is interesting to see that at some point during the fall and winter all four cranes have used the same habitats. This accentuates just how vital these playas and wetlands are to wintering birds as such habitats are not nearly as plentiful as they once were. In fact over half of the wetlands in Texas have been lost to habitat degradation, development, and agriculture.
As the migration season progresses the Crane Trust will continue to do aerial surveys to estimate the number of sandhill cranes along the Big Bend stretch of the Platte River, Nebraska during this essential staging period in the life of cranes.  We will also report, in more detail, the entire spring migration of Slate, Indigo, Olive, and Crimson on their journeys northward to the breeding grounds.