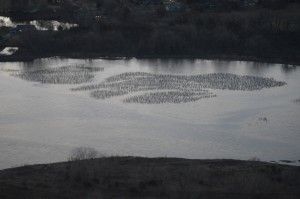 Continuation of a Historic Migration… This week we counted the most Sandhill Cranes recorded via our protocol since regular roost surveys began in 2002. We recorded 395,000 Sandhill Cranes in the river and 15,000 in the fields adjacent to the river, totalling 410,000. Our absolute percent error was +/-11.2%. Please read below for contexts and details.
This is my second year of conducting Aerial Sandhill Crane Counts for the Crane Trust. Last year's spring migration (2015) was a little late and it seems like the Sandhill Cranes pushed through quickly after their late arrival so they'd reach their breeding grounds with time to successfully reproduce, giving their colts a chance to mature before the long migration back south. This is evident in Figure 2 (below) where a quick increase from weeks 5 to 7 brought Sandhill Crane numbers to their peak. The sharp increase and decrease describes that the Sandhills came through rather quickly given temporal pressures to reach the breeding grounds in time. Also, because birds stayed a shorter duration, relatively few overlapped temporally resulting in a lower peak number.
The data from 2006 looks remarkably similar when graphed to the 2015 data (Figure 3). Figure 4 by contrast shows the gradual arrival and decline of Sandhill Crane numbers along the Big Bend of the Platte River with a peak of over 310,000 birds on March 21st, 2005. This can be seen as a typical year. Our data for 2016 (Figure 1) by contrast is atypical. We are clearly at peak numbers now. We recorded 395,000 Sandhill Cranes roosting along the Big Bend of the Platte River, and another 15,000 in fields and meadows adjacent to the river (Total Count= 410,000 +/- 11.2%). Our absolute percent error based on photo subplots was +/-11.2%. This is a record number of Sandhill Cranes recorded via this survey protocol since its inception in 2002.
We have ground survey data dating back to 1998, but that is not directly comparable. We have had 3 consecutive aerial counts of over 200,000 birds. This suggests that the Sandhill Cranes came early and stayed. Incidentally, I have seen very few kettle up and head north over the last 2 weeks. I have avoided speculation, because with biology/ecology one is almost always wrong in predicting the future, especially in regards to migration. However, I have to say, I was not expecting these kinds of numbers but when one thinks about it, it makes some sense. Extra time to stage given an early mass arrival and abundant available forage resources before their long migration up to the breeding grounds could greatly increase their fitness. Also, because of the Sandhill Cranes' very early arrival to the Platte River the birds may not be feeling a strong migratory urge to move right at this moment. Migratory timing is a complex biological phenomenon based on climate, photoperiod, habitat quality and conditions, and more. The dynamics of migratory timing and how that generally relates to phenology is somewhat poorly understood, especially on the level of most species. There may not be a great benefit to arriving extremely early to the breeding grounds. In fact, there could be an evolved aversion to such a practice. In any case, this has been the warmest January and February globally on record. The Sandhill Cranes that arrived early have stayed, and new birds arriving closer to the regular schedule of the migration have piled in on top of them, funneling into those sections of the river channel that are managed for them (and more specifically Whooping Cranes) by conservation organizations such as the Platte River Recovery and Implementation Program, The Nature Conservancy, Audubon Rowe Sanctuary, and ourselves at the Crane Trust. We are pretty confident given these historic numbers we are at the peak of a notable migration. Stay tuned for next week's counts and thank you for your interest and support. Enjoy the show.