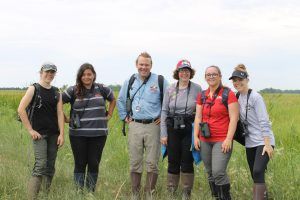 This summer has seen many events go by, and many volunteers have helped us with our daily activities and projects. A big thanks goes out to all the wonderful Crane Trust volunteers! In addition to the year-round Nature and Visitor Center volunteers there is plenty of work to do and fun to be had at the Trust. For example, Wood River High School students cut Eastern Red Cedars around the Visitor Center trail system for their volunteer day. The never-ending cycle of cedar removal helps maintain the prairie habitat so vital to our ecosystem.
Earlier this summer volunteers came with Crane Trust researchers on the annual Big Day bird count and counted 104 bird species in one day! While on the hunt for avian diversity this team covered 8 miles, most of which was the Trust's property. Interesting species included: Wilson's Phalarope, Least Tern, Peregrine Falcon, Great Crested Flycatcher, Warbling Vireo, and Gray-Cheeked Thrush. Global counts like these give a snapshot of the world's biodiversity and can be helpful in noticing global trends.
Later on, a team of Trust employees and volunteers searched the prairie for the Threatened plant, the Western Prairie Fringed Orchid. Despite not finding the plant, the group hiked the historic and pristine Mormon Island, an island in the Platte River owned by the Trust. During March this part of the Trust's property fills in with Sandhill Cranes daily, and is a stopover for Whooping Cranes as well. As soon as the ground thaws Mormon Island becomes a unique assemblage of wet meadow, and lowland tallgrass prairie filled with life.
Citizen science has been a highlight for our volunteers this summer with volunteers working on a long-term monitoring project to follow the population and number of butterfly species present at the Trust, as well as our vegetation, small mammal, and bird monitoring projects. A handful of high school soon-to-be seniors have shadowed our research team and assisted with these efforts. Additionally, the Grand Island Roots and Shoots chapter came out to the Trust to participate in the national Fourth of July Butterfly Count.
The summer certainly is not over just yet, and there are more events coming. The final speaker series of the summer will be September 20th with Reverend Paul Dunbar who is speaking about birding and 'little brown jobbies." Then finally, an Owling Adventure on the Nature and Visitor Center trails at dusk will be on September 24th. See our Facebook page or website for more information about these events.
You don't need to come to an event to enjoy the Crane Trust. The trail system is open throughout the year, and you can meander as you please. You can even participate in citizen science year-round by writing your bird sightings on our chalkboard or posting them on eBird. You can also snap a picture of a butterfly, dragonfly, bird, or other animal and post it to iNaturalist under Crane Trust Trails. Alternatively, if you are interested in helping maintain the trail systems, the Visitor Center, or working on citizen science projects just let us know! Crane Trust volunteer coordinator, Kelsey King, is open to discussing all sorts of projects and the Trust is especially interested in a trail maintenance club.