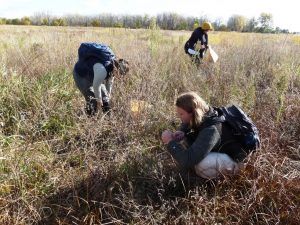 As we ended our first season of permanent biological monitoring in the fall of 2015, I felt like everyone on our conservation team's appreciation for the landscape was evolving. Every one of us pursued conservation because we are steadfast in believing that nature's treasures are irreplaceable. We realized an opportunity to do our part to preserve them on the Trust's pristine tracts of relic land. Landscapes are dynamic and we believe that the complexities of nature and the effectiveness of management techniques are best interpreted through observation and science. As I am a botanist, I could not help but recognizing patterns in the vegetative communities in the sites we were monitoring. It was clear that relic areas held native plant species that restored or reconstructed areas lacked. But why? Throughout the winter, I reflected and read on increasing native vegetative density and diversity in restored areas and hypothesized about future restoration projects. I came to three main conclusions: heavy high-frequency disturbance opens space for exotic/invasive plants, dominant plant species could be grouped by soils and water availability, and native seed stored in the relic soils made those sites unique. Paradoxically natural disturbances created by short pulses of grazing and periodic burning actually increased diversity, leaving space for plants privy to particular conditions to contend with dominant plants. As spring 2016 drew near, I approached the rest of the conservation team to gain permission and support. With the team by my side, a new directive of harvesting rare native seed and establishing a seed bank was born.
Seed collecting started off slow through the spring and early summer, because early season plants tend not to mature at the same time. Since I was out monitoring vegetation on many of the plots, it was a personal objective to collect as much native seed and landscape notes as time, space, and responsibilities would allow. I would note where plants of interest where growing while questioning why they were growing in a specific location. Was it water accumulation? Where soils different? Was it on a north or south slope? What plants are going with it? Are there any reasons why this plant doesn't grow somewhere else? Every day I watched the plants getting larger, stretch out stalks, produce a bud, unveil their flowers, get visited by pollinators, wilt and senesce their beautiful petals, swell up their ovaries, and mature the seeds that are their offspring. When seed was ready, I would inform the rest of the team and collect seed as I came across the plant again. I collected every day and the seed harvest objective transmuted into an obsession!
While still trying to remain taskful in surveying and other duties, I would often find that I did not have enough collecting bags with me in the field. I would wind up filling all of my pockets (I wear cargo pants usually so I have like 10-15 pockets between my shirt, coat, and pants). I would carry bundles of seed heads in both hand and ran out of hands, so I would hug them up to my sides in the armpit of both arms and ran out of armpits, so I would pinch the bundles under my chin or hold some in between my lips. At the end of surveys, I would head back to the truck and unload my harvest in-situ or in the lab. Envelopes were labeled with the species name and landscape notes and stored away. Toward the end of the summer I opened my boxes of seed and to my surprise there where hundreds of envelopes inside! The envelopes were separated and categorized with environmental factors, wetland and upland. I shared the collection with the rest of the team and everyone got excited about getting serious regarding collecting seed. This fall we dedicated time as a team for collecting at certain sites noted to have native seed diversity we were interested in for late season plants.
Wetland seed collection was excellent when we headed to the restored wetland at the Dipple property, south of the Gibbon I-80 exit. As a team we collected nearly 20 brown paper bags full of quality native seed to combat invasive wetland species in just a few hours. Native rushes, sedges, lobelias, mints, and others were harvested with the intentions of filling in ground space in wetland restorations to prevent colonization of invasive species like purple loosestrife, phragmites, and reed canary grass. After seed was collected this season, it was decided that seed mixes should be made to help land management mitigate where to distribute it. I used the personal observations and notes with available wetland indicator information from the USDA to separate seed into 4 categories: wetlands, damp lowlands, moist uplands, and dry uplands. Wetland indicator status is a way to anticipate where plants will grow based on water availability.
Rarer seed stock is now stored away in individually labeled bags to help further develop our seed bank collection. In the future, we will be able to tell how affective our seed mix was for every place the seed is sown through monitoring surveys and more precise seed mixes will be developed to cater to new restorations. We also are hoping to find funding to install a greenhouse and some sun boxes to cache more seed stock of rarer plants or plants closely associated with species of concern. The regal fritillary and monarch butterfly are both species proposed to be listed on the endangered species list and special consideration will be taken to culture native viola and milkweed that they are dependent on. Our adaptive land management approach, coupled with our monitoring plan, is hoping to improve current management regimes that have contributed to a loss of floristic diversity. As we fine-tune our seeding efforts, we hope to develop a targeted management plan specific to the big bend of the Platte River. We will share our findings with the scientific community and other conservation organizations in the area to recover a piece what was lost one restoration at a time.