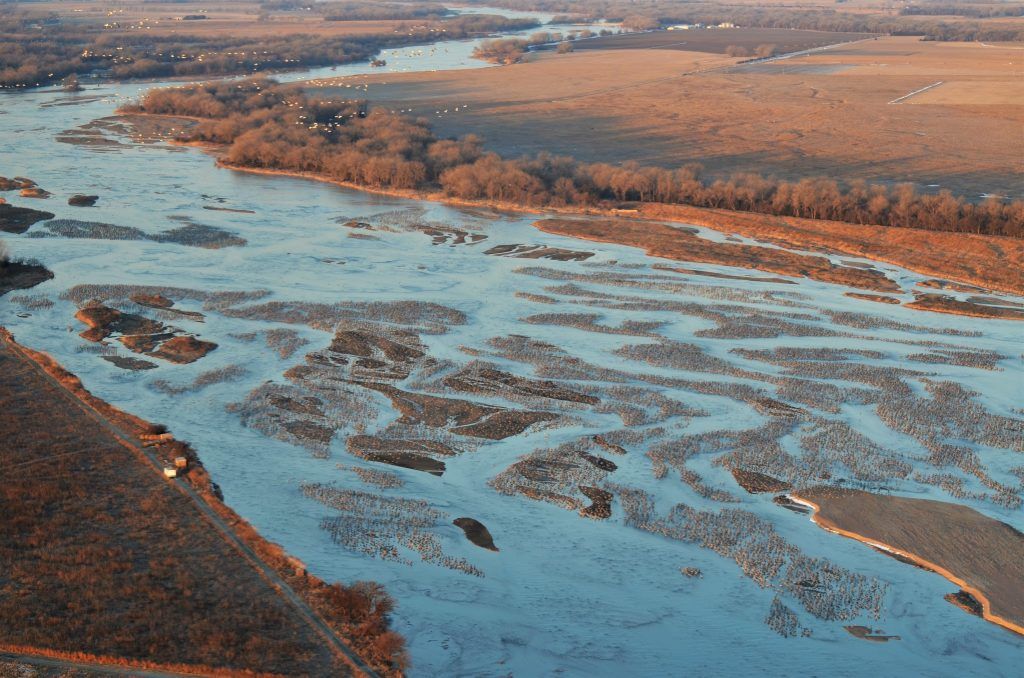 Our aerial count for this week was 194,825 Sandhill Cranes (Relative Error: -7.3%; so our reported number is likely a little bit low). SACRs were present in survey bridge segment one (Chapman, NE) to segment 8 just east of Kearney, NE. Cranes were certainly more dense to the east, with the largest roost along the Crane Trust's Mormon Island. This year remains just behind the pace of last year, making it the second earliest migration in our database (2002-2017) in terms of large numbers of roosting SACRS along the Platte River in February. The early warm weather has continued to coincide with the early arrival of large numbers of Sandhill Cranes.
Late February Total Sandhill Crane Counts from Aerial Surveys**
Year 2017* 2017 2016* 2016 2015 2014 2013 2009 2006 2005
Date 27-Feb 21-Feb 29-Feb 22-Feb 23-Feb 26-Feb 28-Feb 24-Feb 28-Feb 28-Feb
Count 194,825 66,000 213,600 82,100 10,200 4,350 26,050 62,900 5,600 29,400
*Select years to demonstrate normal variation, aberrant years starred.
**Data property of the Crane Trust: Permission required before use or distribution.
In addition to Sandhill Cranes we count Bald Eagles utilizing the river during their migration in February as well as Dark Geese. Today we counted 14 Bald Eagles and 4,050 Dark Geese.