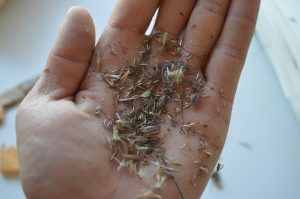 The Crane Trust was awarded the Nebraska Environmental Trust (NET) and Nebraska Academy of Sciences (NAS) PIE Grant for a total of $3000 to help reconstruct the "Crane Trust Educational Greenhouse" that once existed here. This grant was one of four accepted by NAS out of the eight that applied.
The Crane Trust is dedicated to the protection and maintenance of over 8,500 acres of prairie and wet meadow habitat along the Big Bend of the Platte River. This area is part of the Central Flyway and hosts a wide range of migratory bird species, including the largest Sandhill Crane roost in the Platte River. It provides and uses best management practices to preserve critical habitat for several at-risk or endangered species of birds and butterflies including the Least Tern, Piping Plover, Whooping Crane, monarch butterfly, and regal fritillary. Part of managing these lands is seed harvesting, seeding new restorations, and improving the plant resources for species of concern. The Crane Trust Educational Greenhouse project will facilitate an interactive educative experience of the purpose for restoration, management, and land stewardship for young members of the Roots and Shoots organization out of the Grand Island and Kearney areas. The greenhouse will engage these members with hands-on experience with the purpose and methods of composting, collecting seeds, growing plants, and planting native plants for restoration and habitat improvement.
The decline of many native pollinators and rising urbanization has created a clear need for native plant reestablishment and native spring flowers that are severely lacking in restoration seed stock and their ecological niche is replaced by exotic plants in Nebraska. The goals of the Crane Trust Educational Greenhouse include grow native forbs (especially host plants depended on by pollinators of concern like native milkweeds for monarchs and violets for regal fritillaries) for habitat enrichment, developing a strong foundation of the importance of habitat quality and restoration in the young members of the Roots and Shoots foundation, and propagation of spring cool season plants to help maintain the ecological integrity and function of prairie restoration.
Through funding this greenhouse, NET and NAS will be part of fulfilling a need to grow milkweeds, violets, and other native pollinator plants to improve habitat and helping local Roots and Shoots chapters develop a foundation in the importance of land management, native pollinators, and plant diversity. Using the importance of the Big Bend region and pollinators such as the monarch and regal fritillary butterflies as flagship species, we can begin to cultivate an appreciation for habitat and wildlife in young minds by giving them a chance to interact with native plants in a way they may never have before: as a steward. By having hands on experience of planting a few milkweeds or other native forbs from the Crane Trust students are gaining a personal connection to protecting our native plants and the insects that visit them. Though the local Roots and Shoots chapters will be impacted the most by the experiences they learn at the Crane Trust Educational Greenhouse, this project aims to provide a model to get other groups of young people (such as scouts and interested adults like the Master Naturalists) involved in the importance and practices of land stewardship.