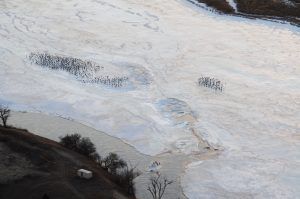 The Crane Trust has conducted two counts this year thus far, on February 14th counting a photo-corrected 3,000 Sandhill Cranes (SACRs*) and February 21st, counting a photo-corrected 9,080 +/- 695 SACRs. On February 14th we only detected one SACR roost and it was in a field of corn stubble adjacent to a 200 acre meadow south of the Platte River. This detection was just before sunrise and it appeared the cranes actually roosted on land on the 14th, but on the 21st all SACRs were on the river. The continued cold weather seems to have held a great number of Dark Geese here; we counted 62,300 Dark Geese (Canada Goose, Cackling Goose, etc.) during the week 2 survey, predominantly west of Alda with the largest groups near Overton, NE. Our next flight is scheduled for Monday, February 26 pending weather with results on the blog the following day.
Be sure to view our live river cam stream to watch for Sandhill Cranes roosting on the river around sunrise and sunset.
Data property of the Crane Trust: Please contact acaven@cranetrust.org before redistributing or publishing publically.
*SACR is the abbreviation for Sandhill Cranes (Antigone Canadensis) – The American Ornithological Society Bird Codes