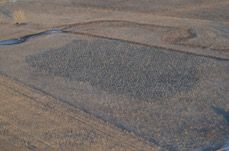 The Crane Trust completed our third SACR* survey of the year counting a photo-corrected 28,200 +/-3,000 SACRs. We began our survey 20 minutes before official sunrise and noted SACRs both roosting on the frozen river as well as in the adjacent fields in eastern bridge segments from Chapman, NE to Wood River, NE. We documented a leucistic SACR near HWY 281. We also documented approximately 70 Trumpeter Swans predominantly in the western portion of our survey area west of Kearney, NE to Overton, NE.  Eastern portions of the Central Platte River Valley remain largely frozen. However, as you go west the river opens up, especially west of Kearney. Large ice jams are present in the western portion of the river, where sheets of ice that have broken free have crashed into sandbars and still frozen banks.
Reference our week 3 in 2017 blog post to see a chart of late February Sandhill Crane counts from past aerial surveys.
Data property of the Crane Trust: Please contact acaven@cranetrust.org before redistributing or publishing publically.
*SACR is the abbreviation for Sandhill Cranes (Antigone Canadensis) – The American Ornithological Society Bird Codes