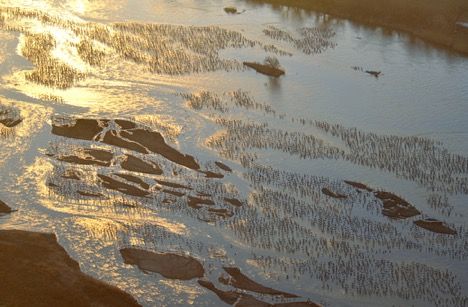 On Thursday April 5th we counted a photo-corrected 302,300 +/-24,000 Sandhill Cranes in the Central Platte River Valley between Chapman and Overton, Nebraska. On April 9th we counted a photo corrected 238,100 +/-26,600 Sandhill Cranes. We counted cranes in 10 of 11 bridge segments with the highest densities from just before the Gibbon Bridge to just after the Minden Bridge. However, we had large roosts in several locations from HWY 281 to Elm Creek, Nebraska.
Our protocol specifies that we fly at least one time per calendar week from the middle of February to the middle of April, or when Cranes have departed. We generally aim to fly on Mondays and keep flights as close to one week apart as possible. However, in many weeks, because of weather or airplane maintenance, etc. we get pushed back towards the middle or end of the week. This was the case last week and a major reason we decided to send out this joint count update for weeks eight and nine. Migratory conditions appear good with strong winds out of the south from Tuesday through Thursday. As of now we are scheduled for our last count of the year on Monday the 16th of April.
*Data property of the Crane Trust: Please contact before redistributing.