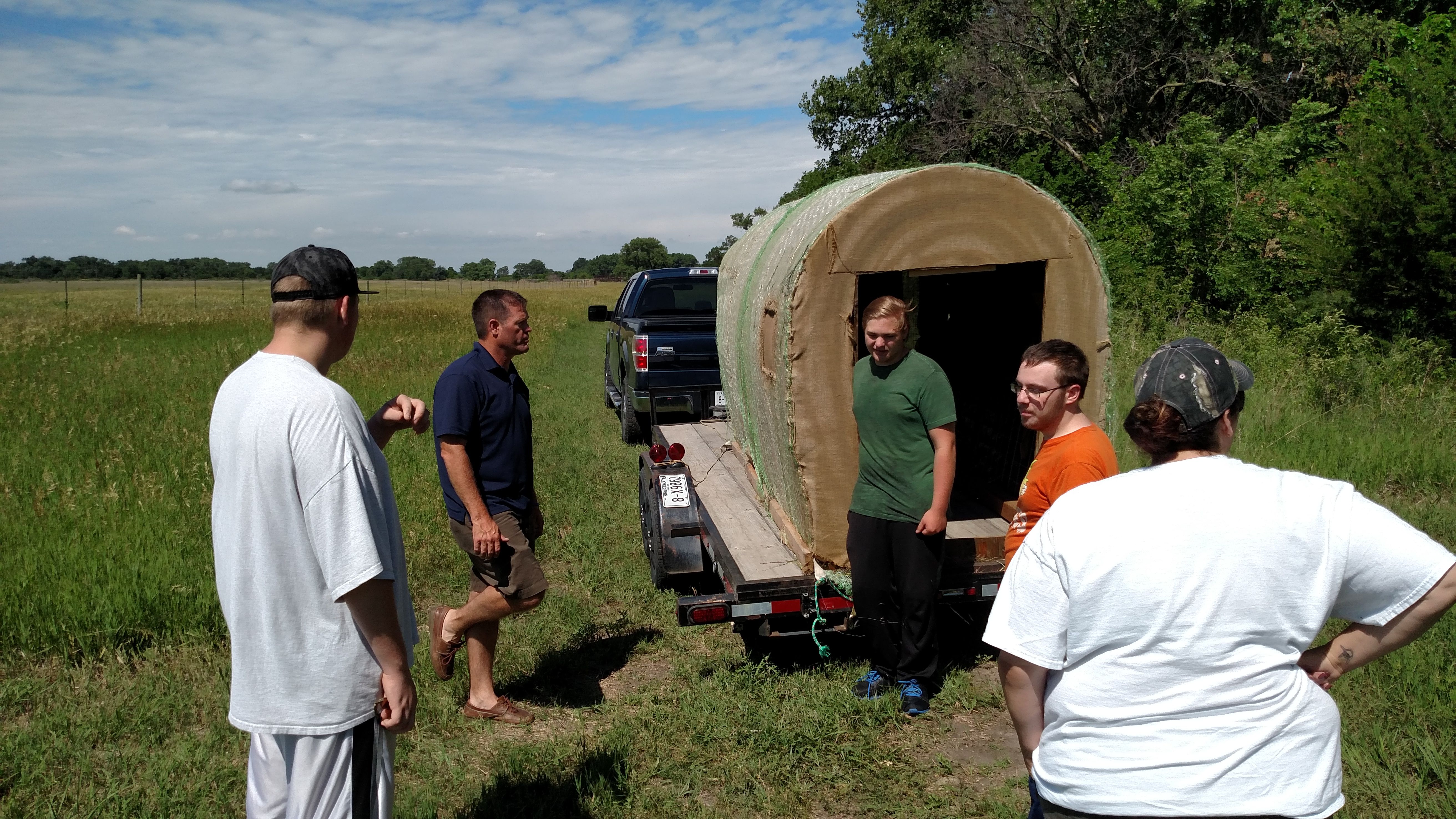 This year, Grand Island Public Schools reached out to the Crane Trust with information on a grant funded work program for students with special educational needs. This program was created to prepare students with disabilities for future employment, help them discover career opportunities, and to provide them with work experience. Grand Island Public Schools and the Crane Trust already have a relationship through the ongoing Roots and Shoots program. Therefore, the Grand Island Public Schools reached out to the Crane Trust to be the location for this program.
The Youth Initiative Program began in late February with Crane Trust staff guiding the students' tasks. For many, it was their first experience working. Students cleaned out blinds on the river in preparation for tours, maintained vehicles, cleaned buildings, and washed windows to keep the visitor center looking nice for guests. They also helped build the haybale blind, including hand stitching the canvas. As the weather became warmer, the students helped weed and picked up trash to keep outside areas maintained.
As this was the first time the Crane Trust had participated in this program, staff learned along with the students. The Crane Trust is very grateful for all of the work these students put in and wishes them all the best in their future endeavors.
After the success with the Youth Initiative Program, Grand Island Public Schools and the Crane Trust continued their relationship with the Transition Summer Work Program.
Billie Herron, an Americorps employee situated at the Crane Trust, oversaw this group of students. She issued their job assignments each day and discussed work ethics, and together they learned life lessons through the program.
For many of the students, their work at the Crane Trust was filled with firsts. They had never planted a butterfly garden, pulled weeds, washed cars, or cleared brush. But they learned how to do all of that and more. As with any job, everyone learns more than simply the tasks assigned. These students were not just weeding the Crane Trust's butterfly garden. They were learning patience as day after day, new weeds had grown that needed pulling. As they cleared brush, they were learning to understand the concept of cause and effect as the brush they were clearing was the start of the new hiking trail that the students were helping to develop. They also learned commitment and responsibility and their confidence grew from a job well done.
These are all important job skills that can be taken and used in the future jobs these bright kids will one day have. The students were a joy to get to know for all at the Crane Trust and hopefully they come back to visit and see the outcome of the hiking trail they helped create and the beauty of the butterfly garden they cared for.