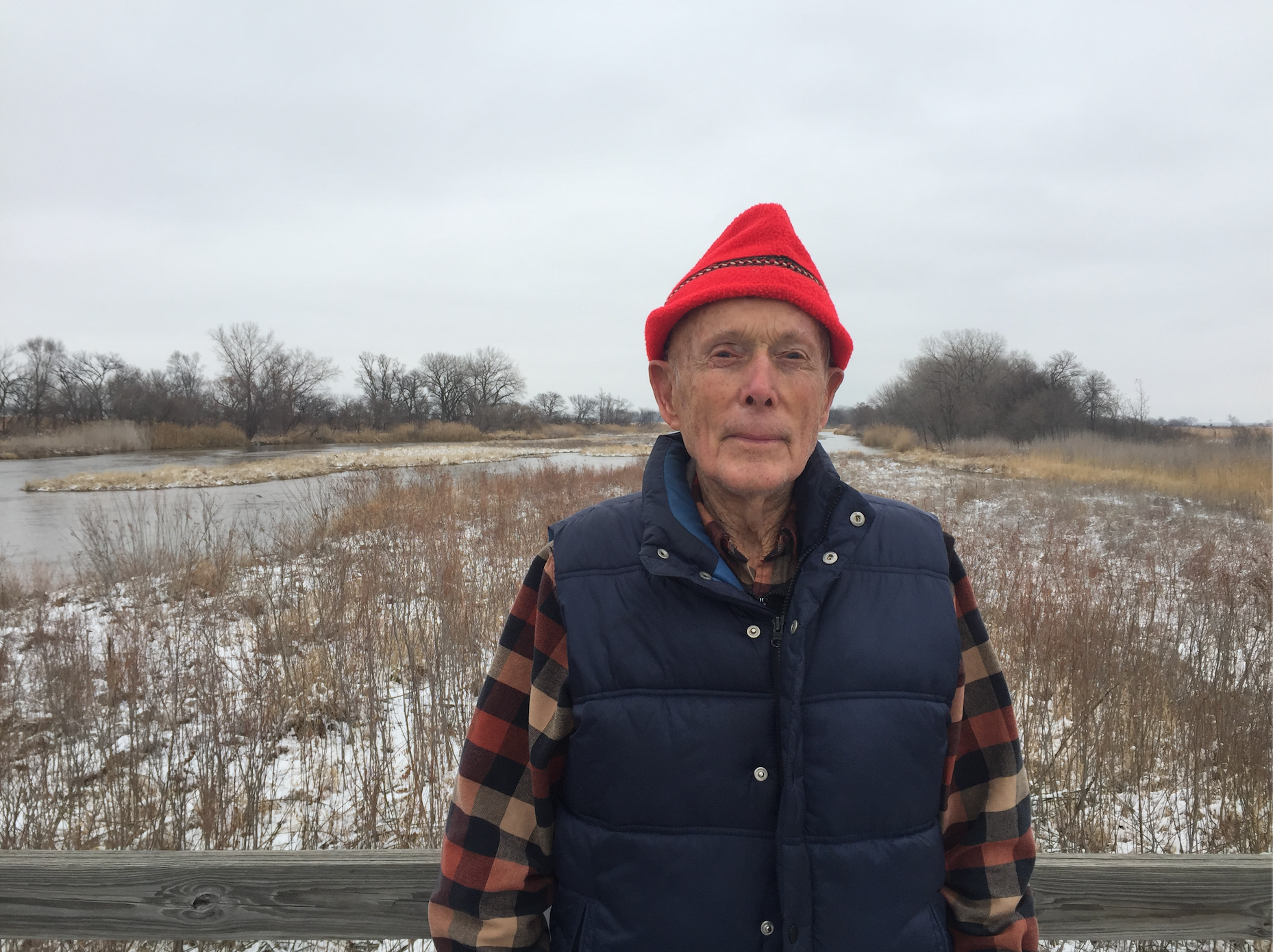 This article is the first in a series celebrating the Crane Trust's wonderful volunteers. This month we are showcasing Bob Johnson as we asked him about his experience volunteering with the Trust. We would like to take this opportunity to publicly thank Bob Johnson for his invaluable service.
A lifelong area resident who grew up having family picnics on the Platte River, Bob Johnson is very supportive of the Crane Trust's conservation mission. He decided to join us as a volunteer in part because of the awareness that good management doesn't just happen – it takes hard work! As a retired farmer now in his 90's, he still loves being outdoors, so helping with the Crane Trusts' many outdoor activities has been a great fit.
As a guide for visitors coming to see the cranes, Bob enjoys meeting great people from all over the world. One day he was surprised to cross paths with a global celebrity, after leaving one of the blinds and encountering a group from the Jane Goodall Institute. During the total solar eclipse last year, Bob was on hand to help, by parking visitors' cars. Bob was standing with Brice, our Vice President, when darkness fell in the middle of the day and the birds became quiet. When it happened, he said, "a cheer went up from the crowd". Bob remarked on the amazing precision with which scientists are able to predict the timing of such events.
Another highlight of Bob's experience with the Crane Trust was helping with Global Big Day, a worldwide bird survey event. Working with local birders, he helped count well over a hundred bird species at the Crane Trust, and was impressed by his companions' knowledge and skill in identifying and counting birds in the field.
When the cranes arrive in the spring, he takes people to the blinds in the early morning, walking quietly in the dark, he explains, "so the birds don't know we're there." What they see is different every time – sometimes subtle, sometimes magnificent. During one evening bridge tour Bob led, it was terribly damp and chilly, leading some people to leave early… but as it turned out, just before sunset, the sun showed from under dark blue clouds and a double rainbow appeared as the cranes began coming down to land in the river. "It was one of the most beautiful things I've ever seen in my life", Bob reflected. It's an example of how being there can make all the difference, and one of the many ways conserving the habitat along the Platte River lets us witness beauty beyond description.