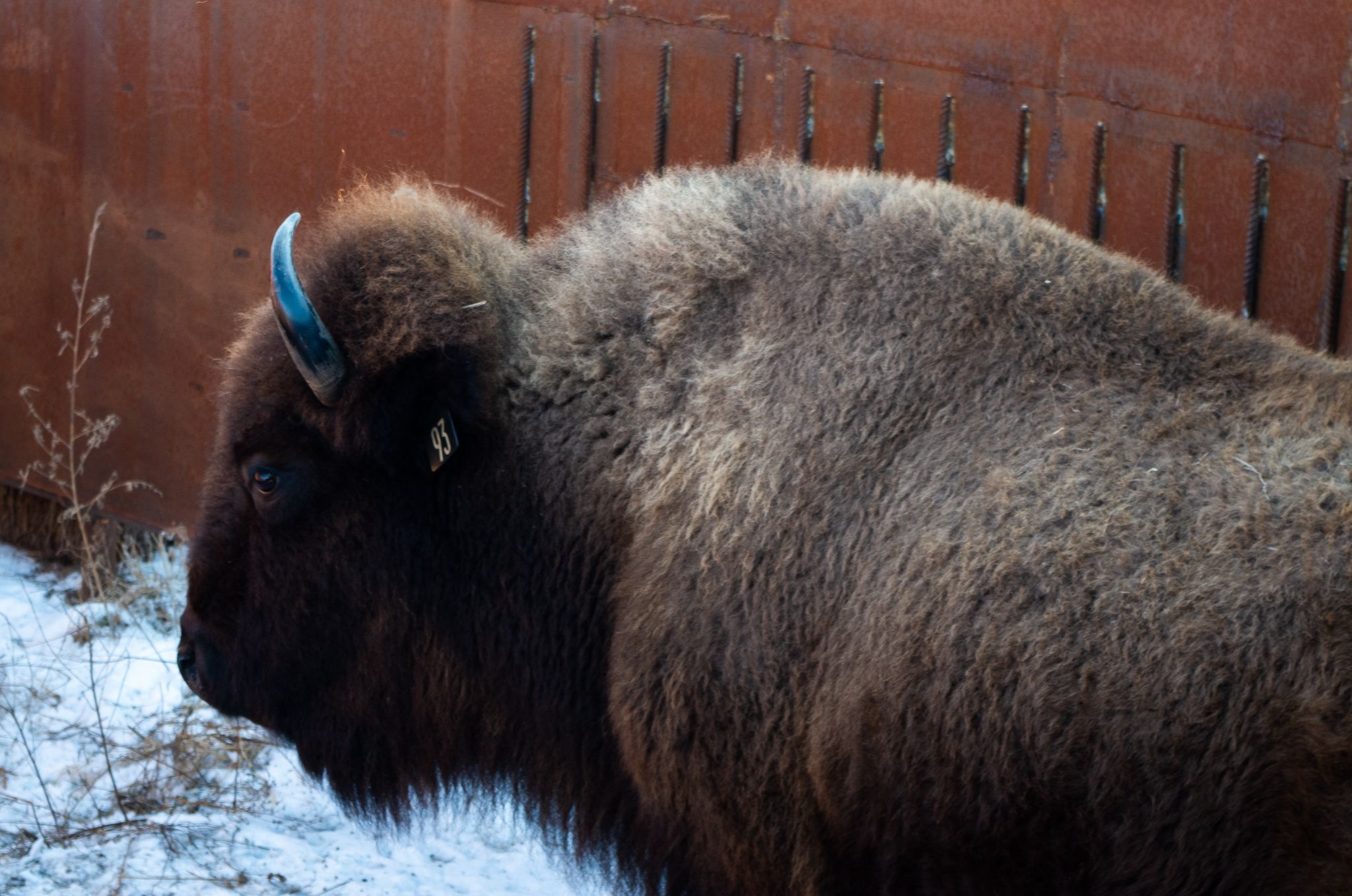 The Crane Trust bison herd has been worked every year for the past four years. The process of "working" the bison is herding them to the corrals and running them through the chute to collect data from each bison. We have just completed the bison working for this year and thought we might explain a little bit about what it all means to us.
There are a variety of reasons we work the Crane Trust bison. The main reason is to collect blood samples from bison calves to have tested for their genetic diversity and purity at the Texas A&M labs. Genetic diversity and purity in the bison herd is important to the Crane Trust and in keeping a healthy herd. The Crane Trust bison herd is one of the most genetically diverse herds in North America.
Besides collecting blood samples from calves when we work the bison herd, we also tag, vaccinate them and deworm all bison three years of age or younger. The older bison are put through without being caught.  We also take this time to sort out the bison we have sold. We sell the Crane Trust bison to ranches with a conservation mission in order to spread our genetics to other herds. This year, 100 bison ran through our working system which is nearly every bison on the property. The ones that we did not work were the old herd bulls since they were worked when they were younger and they are often out by themselves apart from the herd.
Low-stress handling techniques are practiced while we work the bison herd and our team has improved every year at implementing them.  These techniques include speaking in whispers and minimizing how much we disturb the bison. This helps everything go smoothly. We also put an emphasis on safety while working our bison herd. This year, the Central States Center for Agricultural Safety and Health (CS-CASH), the College of Public Health, and the University of Nebraska Medical Center came to watch and help us work the bison herd and we thank them for their work. We would also like to thank Dr. Clayton Kelling and Christina Topliff, UNL veterinarians and a major key to our success here at the Crane Trust.
As much as we would like to just let Crane Trust bison be bison, it is still necessary for us to work them once a year. Our herd can only grow to a certain size to benefit the wildlife that also call the Crane Trust home, and the information we receive from working them is crucial for the herd's health. Once we are done, the bison can go back out onto the pasture for another year, to help us manage our prairies and give us a glimpse into the past that their ancestors and ours might have shared together.