Group Viewing Blind Tours
2.5 HOURS, $40 + Tax + Booking Fees per person. TOTAL $44.52 - BOOKING OPENS JANUARY 2020
A trained guide will accompany you to one of our prime viewing blinds on the Platte River. Blind tours are offered in the early morning, while the cranes are roosting on the river, and also in the evening, when the birds are returning to the river to roost for the night.
Each tour lasts approximately 2.5 hours, which includes a presentation on the Great Sandhill Crane Migration at the Crane Trust Nature & Visitor Center before you depart for the blind. Visitors will need to be able to walk about ten minutes over uneven terrain to reach the blind. Children must be 12 and up and accompanied by an adult.
Cancellations policy: Cancellations more than 7 days prior to the scheduled tour will receive a refund minus 10% for administrative costs. Cancellations between 49 hours and 168 hours prior will receive a 50% refund. No refunds for cancellations within the last 48 hours prior to your tour time unless the Crane Trust cancels the tour. The Crane Trust will cancel tours if Interstate 80 is closed anywhere between Lincoln and North Platte due to bad weather. In the event of a closure, we will attempt to reach you via email and by cell phone. In the event that the Crane Trust cancels a tour, you will receive a full refund.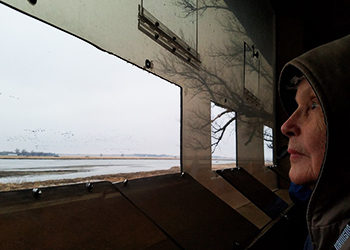 2020 Tour Dates and Times
March 1st - 7th, 5am & 5pm
March 8th - 31st, 6am & 6pm