(OVERNIGHT, $250 + TAX/BLIND) - BOOKING OPENS JANUARY 2019
These special overnight photo/viewing blind are designed for the serious nature enthusiast seeking the ultimate viewing and photo experience on the Platte—morning and evening!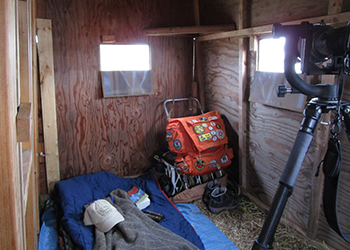 Because the blinds are placed in extreme proximity to the sandhill crane roosts on the river, you will overnight in the small 8'x6'x4' blind and must remain inside so as not to disturb the birds from their roost. You must fit yourself and all your gear in just 32 sq. ft. What you give up in creature comforts you'll more than make up for in spectacular morning and evening views. Your guide will drop you off near your blind (max 500 yards away) in the late afternoon and pick you up the next morning after the cranes have left the river. Maximum Occupancy: 2 people.
March 1 - March 30, 2019 | 4:30pm - 9:30am