(OVERNIGHT, $350 + TAX/PERSON) - BOOKING OPENS JANUARY 2019
A professional photographer will lead up to 8 guests to the ultimate viewing and photo blind on the Platte River for one sunset and one sunrise photography session. Overnight accommodations in the Crane Trust Dormitory and continental breakfast is included.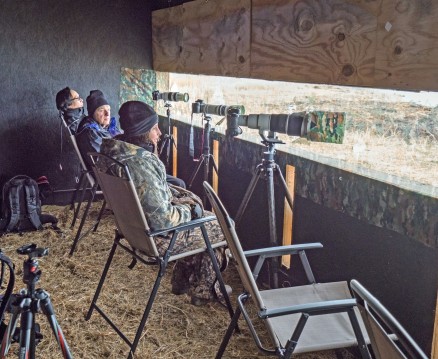 This is an overnight tour experience with a professional photographer guide. It replaces the overnight blind rentals and provides an onsite accommodation feature in the warmth of the Crane Trust Dormitory, located on the unique native prairie of the Crane Trust lands. 
The package includes 2 blind tours, to capture both sunset and sunrise viewing with a professional photographer. Instruction is not included, but your guide will provide some helpful tips prior to going to the blinds. (For photo instruction, please consider one of our photo workshops). Transportation is provided from the Nature & Visitor Center up to the main campus Dormitory and after the sunset viewing, to a diner for dinner at your own expense. Overnight accommodation in the Dormitory is included in the price, along with pastries and coffee for breakfast before going back out to the blind for the sunrise viewing.
Maximum Occupancy: 7 people.
Tripods are welcome! 
All guests will need to bring a sleeping bag, pillow and towel.
Read additional rules and guidelines.
Sample Schedule
Day One
3:00pm (March 1-6) or 4:00pm (March 27th - 31st) – Meet the professional photographer guide at Crane Trust Nature & Visitor Center, Exit 305, south off of I-80. Visitors are given a tour of the Nature & Visitor Center and then put their luggage into the transportation vehicle. The Guide transports the group to Dormitory rooms on the main campus to unload luggage and check into rooms, followed by a short orientation. 
5:00pm (for bookings March 1-6) / 6:00pm (for bookings March 26-31) – Head out to blinds for sunset. Return at dark. After the evening tour the Guide transports group to the Country Pride Diner for dinner (at your own expense) or guests are welcome to bring their own dinner to prepare in the Dormitory kitchen.
Day Two
4:30am/5:30am (depending on daylight savings time) – Pack up belongings. Breakfast available in Dormitory.
5:00am/6:00am – Venture out to blind for sunrise. 
10:30am – After the tour, the group returns to Nature & Visitor Center to pick up their vehicles. 
For additional information, please email info@cranetrust.org or call 308-382-1820.