(2 DAY/1 NIGHT, STARTING AT $499/PER COTTAGE ROOM, ALL-INCLUSIVE)
This one-of-a-kind adventure on rare Crane Trust lands can't be duplicated anywhere else. The VIP Crane Viewing Experience can accommodate individuals, couples and groups of 4 to 12 couples (or 8 to 20 individuals) and guests must be 18 or older to attend. It is a memorable way to spend time with friends, family, colleagues or clients while enjoying the natural wonder of the crane migration at the Crane Trust. 

---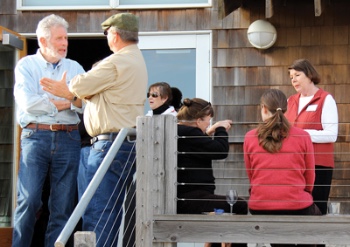 The arrival of the cranes on Nebraska's Platte River—and the millions of other migratory birds that visit each spring—is one of the greatest wildlife spectacles on the continent. Peak viewing times occur at dawn and sunset, meaning there is an extremely short and exclusive window to experience this awe-inspiring scene.
Take your crane viewing experience to the next level by booking a VIP stay at the Crane Trust's Legacy Cottages and Suites (see images below). The cottages and suites greatly enhance the experience for our private guests and friends. Cottages feature four fully furnished private bedrooms, each with its own private bathroom, and a patio that rests up against the vast prairie where the Crane Trust's bison herd roams. There are two adjoining suites each with their own private kitchen, family room, bedroom with king size bed and bathroom with double sinks.
The guided crane viewing experience will take you to the largest Sandhill Crane roost on the river, viewable from the Crane Trust's private Pietrok Family VIP Blind. Guests are in this heated blind with experts who provide valuable insights into the science and the mystery of the crane migration and Platte River ecosystem. This blind is specially designed to provide spectacular vistas and provide Friends of the Trust a comfortable and warm viewing experience.
---
The Lauritzen and Union Bank & Trust Cottages
The Bay Family Suites