VIP Crane Experience
2 DAY/1 NIGHT, STARTING AT $600/PER COTTAGE ROOM, ALL-INCLUSIVE - BOOKING OPEN SOON!
This one-of-a-kind adventure on rare Crane Trust lands can't be duplicated anywhere else. The Crane Trust has three cottages each with four bedrooms with private bathrooms and shared common space, plus two private suites for lodging VIP guests. The lodging can accommodate up to 14 individuals, 28 couples and/or groups from 4 to 12 couples (or 8 to 24 individuals.) Guests must be 18 or older to attend. It is a memorable way to spend time with friends, family, colleagues or clients while enjoying the natural wonder of the crane migration at the Crane Trust.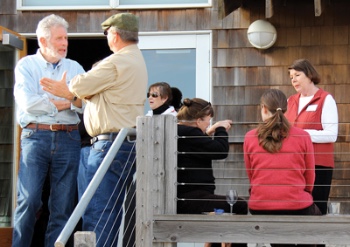 The arrival of the cranes on Nebraska's Platte River—and the millions of other migratory birds that visit each spring—is one of the greatest wildlife spectacles on the continent. Peak viewing times occur at dawn and sunset, meaning there is an extremely short and exclusive window to experience this awe-inspiring scene.
Take your crane viewing experience to the next level by booking a VIP stay at the Crane Trust's Legacy Cottages and Suites (see images below). The cottages feature four fully furnished private bedrooms and bathrooms and there two larger adjoining suites. The one-night experience includes includes meals (with vegetarian option) and beverages (beer and wine included) on our private lands away from the crowds. The Crane Trust also offers a two-night VIP Crane Safari if you want to spend more time enjoying the migration.
Both tours will take you to the largest Sandhill Crane roost on the river, viewable from the Crane Trust's private Pietrok Family VIP Blind. Guests are in this heated blind with experts who provide valuable insights into the science and the mystery of the crane migration and Platte River ecosystem. This blind is specially designed to provide spectacular vistas and provide Friends of the Trust a comfortable and warm viewing experience.
---
The Hastings College, Lauritzen, and Union Bank & Trust Cottages
The Hastings College, Lauritzen, and Union Bank & Trust Cottages were designed to provide a unique opportunity for guests wanting an immersion experience to witness the migration. The three cottages each have four bedrooms with either a queen bed or two twin beds, with private bathrooms. There is a kitchenette with dining table and television in the common area and a covered patio overlooking the vast historic prairie where our genetically-pure American bison roam.
The Bay Family Suites
The Bay Family Suites were designed for discerning guests looking to upgrade their experience. These beautiful, private, and luxurious accommodations come with two adjoining suites, each with a comfortable king size bed, television and views of the adjacent pond. There are dual sinks in the large bathroom with a spacious tiled shower. The kitchen has a dining area and the living room has two leather recliners and a television. DirectTV and free wifi included.
For questions, please call (308) 833-3808 or email reservations@cranetrust.org