The Crane Trust is home to a beautiful Nature and Visitor Center that welcomes guests to the Crane Trust's rare, protected lands year round—and to the great sandhill crane migration in the spring.
Come inside to discover the Wild About Nature Display including murals and touch-screens full of information, shop the Crimson Crown Gift Shop and view magnificent photographs and art in the Hornady Art Gallery. When you venture outside you'll encounter the butterfly garden, a small research herd of American bison along the path to a 35-foot observation tower which is near two footbridges leading to roughly 10 miles of nature trails along the Platte River.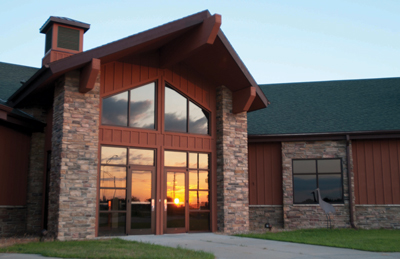 Address: 9325 South Alda Road
Wood River, NE 68883
Exit 305 towards Alda
Phone: (308) 382-1820
Hours: Monday – Saturday
9:00 a.m. – 5:00 p.m.
(Hours change during migration season and holidays)
2020 Migration Season: March 1 - March 31
Hours: Monday – Sunday, 8:00 a.m. – 6:00 p.m. (Trail 9:30 a.m. – 5:00 p.m.)
Trail hours vary to protect roosting and/or loafing cranes in the area.