The Crane Trust is home to a beautiful Nature and Visitor Center that welcomes guests to the Crane Trust's rare, protected lands year round—and to the great sandhill crane migration in the spring.
Come inside to discover the Wild About Nature Display including murals and touch-screens full of information, shop the Crimson Crown Gift Shop and view magnificent photographs and art in the Hornady Art Gallery. When you venture outside you'll encounter the butterfly garden, a small research herd of American bison along the path to a 35-foot observation tower which is near two footbridges leading to roughly 10 miles of nature trails along the Platte River.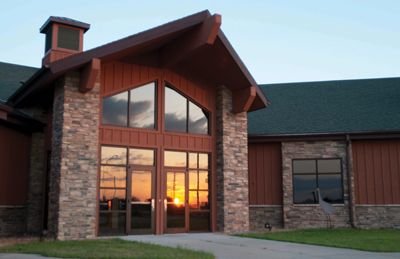 Address: 9325 South Alda Road
Wood River, NE 68883
Exit 305 towards Alda
The Crane Trust will be closed from March 12th through to June 2020, at which time the situation will be assessed.`
We do not have staff available to answer phone calls at this time. All tours and activities are now closed.
If you have booked a tour with us, we will be contacting the email address on the booking in due course to discuss refunds.
Thank you for your patience.