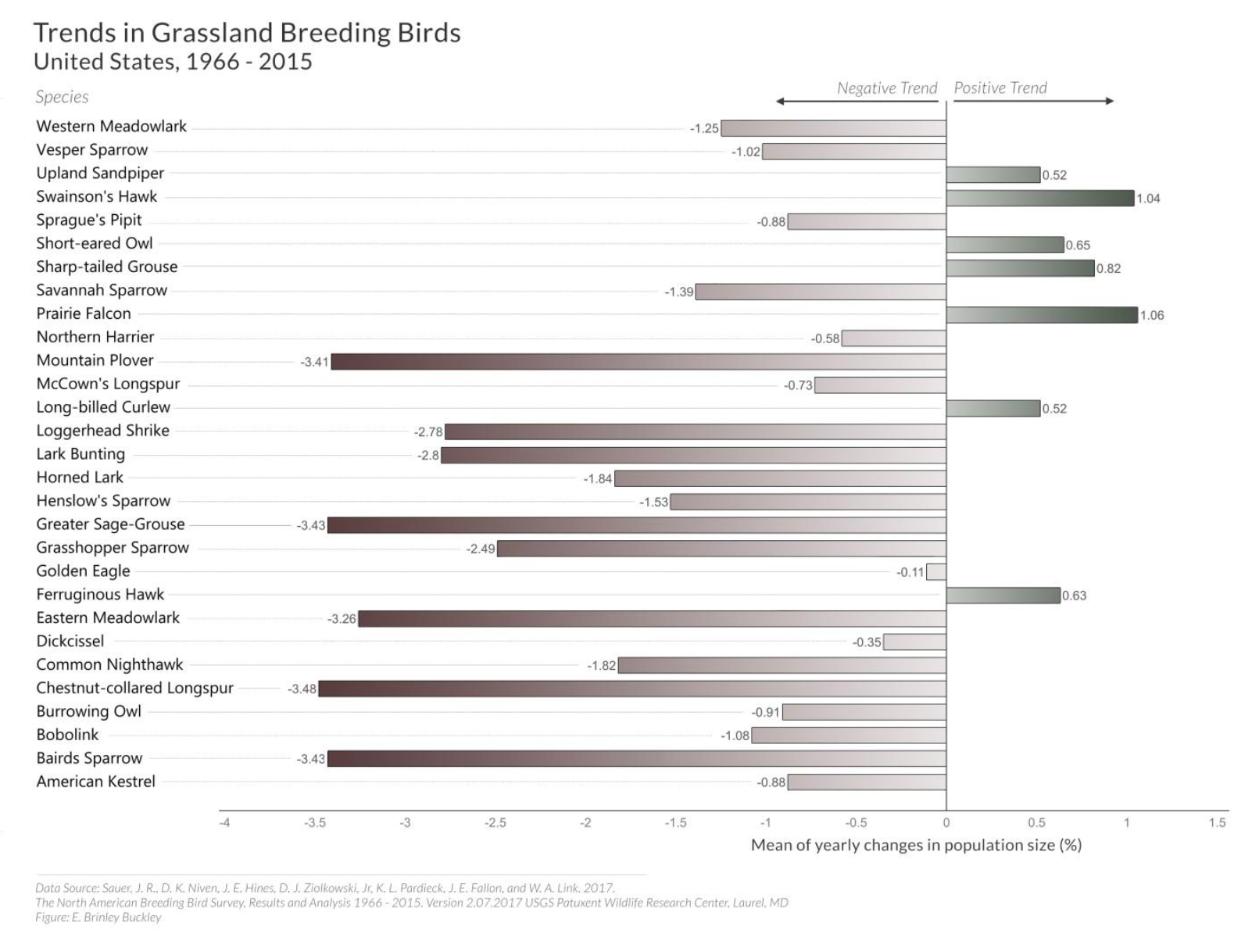 For world migratory bird day we wanted to highlight the plight of grassland birds, a guild we work hard to conserve at the Crane Trust. These species generally winter anywhere from the southern coastal plain of the North America (Henslow's Sparrow- Ammodramus henslowii) to the Pampas of Argentina (Bobolink - Dolichonyx oryzivorus). However, they breed throughout the Great Plains and other grassland habitats in continental North America. Recent reports by the United States Geological Survey (USGS; Sauer et al. 2017) and the Partners in Flight (Rosenberg et al. 2016) demonstrate that Grassland Birds are the fastest declining community in continental North America. For instance, from 1970 to 2014 Bobolink populations have declined 60% and Grasshopper Sparrows (Ammodramus savannarum) populations have declined 68%. These species' populations have dropped in great part due to large-scale habitat losses. More than 95% of the Central Tallgrass Prairie has been developed to meet human needs, including agriculture and urbanization (Samson et al. 2004). Only 2% of Nebraska's historic tallgrass prairie remains (Samson and Knopf 1994).
The Crane Trust is working hard to maintain and restore lowland tallgrass prairie habitat for grassland birds in south-central Nebraska. The above figure visualizes data from Sauer et al. (2017) regarding yearly trends from in breeding bird abundance from 1966 to 2015 across North America from the USGS's Breeding Bird Survey Program. This nationwide effort represents the longest running database on which to evaluate trends in breeding bird populations in North America. The above graphic demonstrates that the Cestnut-collared Longspur (Calcarius ornatus) population has declined an estimated 3.48% per year in North America from 1966 to 2015. This may not sound like a lot, but extrapolated across a ten year period this is a 34.8% decline in population in one decade. This is a precipitous decline and the Cestnut-collared Longspur is now considered Near Threatened by the International Union for Conservation of Nature (IUCN Red List 2018). The Crane Trust is working hard to maintain and restore habitat for Grassland Birds. We are planning to restore grassland to over 200 acres of cropland in the next two years. However, we all need to do more to improve habitat for at-risk grassland bird species to ensure healthy populations continue to exist in south-central Nebraska and the Great Plains half a century from now.
Rosenberg, K. V., J. A. Kennedy, R. Dettmers, R. P. Ford, D. Reynolds, J. D. Alexander, C. J. Beardmore, P. J. Blancher, R. E. Bogart, G. S. Butcher, A. F. Camfield, A. Couturier, D. W. Demarest, W. E. Easton, J. J. Giocomo, R. H. Keller, A. E. Mini, A. O. Panjabi, D. N. Pashley, T. D. Rich, J. M. Ruth, H. Stabins, J. Stanton, T. Will. 2016. Partners in Flight Landbird Conservation Plan: 2016 Revision for Canada and Continental United States. Partners in Flight Science Committee.
Samson, F., and F. Knopf. 1994. Prairie conservation in North America. BioScience 44:418–421.
Samson, F. B., F. L. Knopf, and W. R. Ostlie. 2004. Great Plains ecosystems: past, present, and future. Wildlife Society Bulletin 32:6–15.
Sauer, J. R., D. K. Niven, J. E. Hines, D. J. Ziolkowski, Jr, K. L. Pardieck, J. E. Fallon, and W. A. Link. 2017. The North American Breeding Bird Survey, Results and Analysis 1966 - 2015. Version 2.07.2017 USGS Patuxent Wildlife Research Center, Laurel, MD
Article Written by A. J. Caven , The Crane Trust, and E. M. Brinley Buckley, Univ. of Nebraska-Kearney