Historically, the American bison was a common sight in Nebraska. Their 150-year absence from the Platte River Valley has prompted land managers and researchers to speculate the impacts the vast herds of these animals once had on grasslands and wet meadows along the Platte River.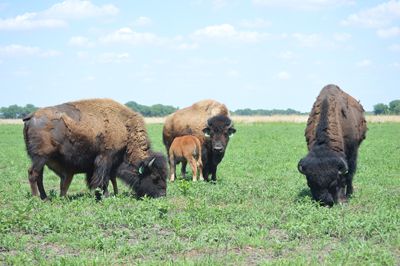 At the Crane Trust, cattle grazing is used to manage vegetation in a way that promotes healthy habitats and high biodiversity. Various grazing systems have been used on Crane Trust properties, and ultimately the recipe for sustainable grasslands has included doses of grazing, rest, fire, and some mechanical means of vegetation control. As management changes and we adapt to the new things science tells us about maintaining critical Platte River grasslands, we strive to research and understand as much about how management affects the plants and animals that inhabit these lands as possible.
Since 2015 we have studied our reintroduced herd in a variety of ways including: their behavior, wallowing ecology, and impacts on vegetation, birds, and small mammals. Currently we have begun a partnership with University of Nebraska Kearney to promote even more research on bison and their impacts on native tallgrass prairie. Read more.