(2 HOURS, $15 + TAX/PERSON) - BOOKING OPENS JANUARY 2019
After a presentation on the Great Sandhill Crane Migration, you'll accompany your guide to our private footbridge over the Platte River. From there you'll enjoy a 360-degree open-air view of large crane flocks crisscrossing the sky above as they travel to roost for the night, along with the sights and sounds of other migratory birds and wildlife.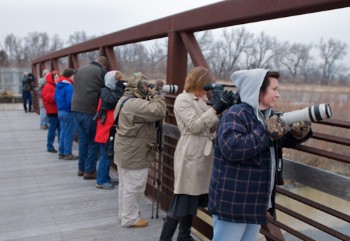 You will watch outside, as the cranes gather on the grassland prairie before lifting over the cottonwood trees to roost on the river downstream from your vantage point on the bridge across the channel. Bridge tours last two hours. Visitors are free to depart when they wish but may not return to the bridge afterward. Children must be 12 and up and accompanied by an adult.
Daily from March 15 through March 31
March 15-March 31 / 6:00-8:00 p.m. / $15 + tax