Footbridge Evening Tours
2 HOURS, $15 + TAX/PERSON
After a presentation on the Great Sandhill Crane Migration, you'll accompany your guide to our private footbridge over the north channel of the Platte River. From there you'll enjoy a 360-degree open-air view of large crane flocks crisscrossing the sky above as they travel to roost for the night, along with the sights and sounds of other migratory birds and wildlife.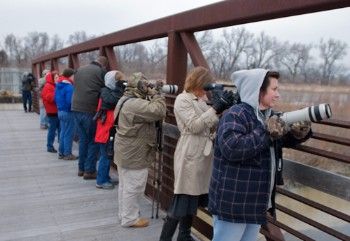 You will watch outside, as the cranes gather on the grassland prairie before lifting over the cottonwood trees to roost on the river downstream from your vantage point on the bridge across the channel. Bridge tours last two hours. Visitors are free to depart when they wish but may not return to the bridge afterward. Children must be 12 and up and accompanied by an adult.
Cancellations policy: Cancellations more than 7 days prior to the scheduled tour will receive a refund minus 10% for administrative costs. Cancellations between 49 hours and 168 hours prior will receive a 50% refund. No refunds for cancellations within the last 48 hours prior to your tour time unless the Crane Trust cancels the tour. The Crane Trust will cancel tours if Interstate 80 is closed anywhere between Lincoln and North Platte due to bad weather. In the event of a closure, we will attempt to reach you via email and by cell phone. In the event that the Crane Trust cancels a tour, you will receive a full refund.
For COVID-19 safety reasons, please wear a mask and social distance when visiting the Crane Trust Nature & Visitor Center