The Crane Trust, Inc. is a non-profit organization devoted to addressing protection and enhancement solutions in order to mirror the unique and extraordinary habitat that has been used by the endangered whooping crane, two sub-species of sandhill cranes and other migratory birds along the Big Bend Region of the Platte River Valley in Nebraska.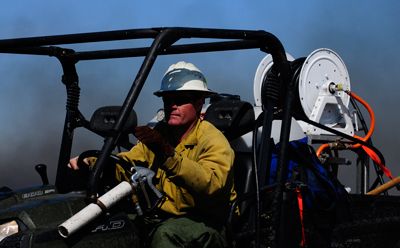 The Crane Trust consists of two facilities: the main campus includes the headquarter office, research laboratory, Pietrok VIP viewing blinds, and Legacy Cabins. The second facility is the beautiful nature and visitor center located off I-80 exit 305 which welcomes guests to the Crane Trust's rare, protected lands year round and to the great sandhill crane migration in the spring. With an art gallery, gift shop, butterfly garden, roughly 10 miles of nature trails, and a herd of genetically pure American bison, there is plenty for visitors to do during their visit.
Our compelling mission creates the foundation for rewarding and challenging careers. With a small, dedicated staff consisting of a diverse background including biologists, land managers, fundraising, marketing, and other professionals, everyone contributes to our mission of conservation and the enhancement of this rare ecosystem, including 4,500 continuous acres of native grassland prairie, wet meadows and an uninterrupted seven-mile stretch of the historic Platte River. Whatever your expertise, you'll find an environment that encourages innovation and collaboration.
Internships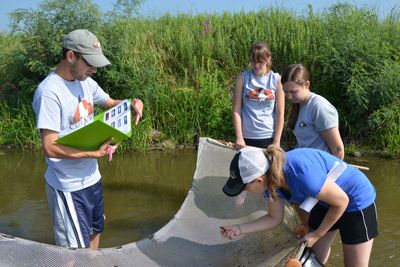 Long-term research internships periodically arise. Please send inquiries to info@cranetrust.org along with a cover letter, resume and two references. Also, include whether your interest lies in biological research, land management, or outreach and education.
Current Employment Opportunities
Job Title: Director, Fund Development & Outreach

Location: 9325 South Alda Road, Wood River, NE 68883
Status: Exempt
Reports to: Crane Trust President
Date: September 8, 2021.
Salary: Commensurate with Experience
Application: Please email your resume and cover letter to info@cranetrust.org

Formed in 1978, the Crane Trust is a 501 (c)(3) non-profit organization dedicated to protecting and maintaining critical habitats for whooping cranes, sandhill cranes, and other migratory birds along the Big Bend Region of the Platte River Valley through sound science, habitat management, community outreach, and education.

The Crane Trust is located at Exit 305 on Interstate-80 in south-central Nebraska, approximately 15 miles southwest of Grand Island, NE. Visit www.cranetrust.org for more information.

Job Summary

The Crane Trust seeks a Fund Development & Outreach Director to develop, implement, and maintain a comprehensive and sustainable fundraising plan to support the mission of the Crane Trust. This opportunity includes, but is not limited to, major gift solicitation, annual giving appeals, corporate and foundation giving, grant writing, special event fundraising, and activities to enhance the visibility of the Trust and its mission. The successful applicant will work on-site at the Crane Trust's Nature and Visitor Center and reside within 40 miles of this location.

Essential Duties and Responsibilities

• Plan, administer, and implement all fundraising activities.
• Develop annual fundraising, cultivation, and stewardship plan in collaboration with the President and the Board of Trustees.
• Work with the President, staff, and Board of Trustees to identify, cultivate, and solicit key donors, major gift prospects to sustain and increase donor participation and revenue, including appropriate and timely recognition of key donors.
• Cultivate and develop the current donor database.
• Research and pinpoint potential grants/grantors and coordinate with staff through the grant application process.
• In collaboration with the President, staff, and Board of Trustees, oversee the planning, development, and implementation of the Crane Trust's 50th Anniversary recognition in 2028.
• Develop and maintain close working relationships with the philanthropic community, individual and corporate donors, sponsors, and volunteers.
• Develop and implement best practices for fundraising, communications, events, stewardship, and database management.
• Responsible for the development and control of the fund development budget, including income and expenditure projections.
• Compiles financial, statistical, and informational reports as requested by the Board of Trustees or President.
• Travel as necessary to maintain donor relationships and cultivate new donor solicitations.
• Assists with generating written and graphic materials required for development fundraising activities or coordinating with external consultants to develop such materials as necessary.
• Assist with donor outreach activities during the spring migration and at other trust events as directed.
• Perform other duties as assigned.

Education and/or Experience

• Bachelor's degree in Business Administration, Marketing, or related field from an accredited college or university; and
• Four years of related experience, or
• An equivalent combination of education and experience sufficient to successfully perform the essential job responsibilities.

Knowledge, Skills & Abilities

• Knowledge of fundraising and development methodologies, techniques, and best practices.
• Knowledge of donor database software or tools.
• Knowledge of principles of publicity, promotion, and public relations.
• Development of analytical tools and reports for benchmarking and measurement progress.
• Ability to communicate effectively and professionally, including making direct asks of donors for large gifts as appropriate.
• Ability to maintain confidentiality as required.
• Ability to work independently and in a team environment.
• Ability to conduct presentations for both small and large groups.
• Strong oral and written communication skills and organizational skills.
• Ability to travel both locally and nationally.
• Flexibility to work weekends or evenings as required, especially during the spring migration season.
• Possess a valid driver's license.