Booking for 2024 will begin for Crane Trust members by late summer 2023. To have an early opportunity at preferred dates, we encourage you to become a member. 
VIP Crane Safari
3 Days/2 Nights, All-Inclusive, starting at $1,900/per Cottage Room
Crane Trust's VIP Crane Safari is an elevated opportunity to experience the Great Sandhill Crane Migration while helping to support Crane Trust's mission and conservation work. The Crane Trust Safari offers a one-of-a-kind adventure on historic Crane Trust lands, which includes two nights lodging and three days of spectacular Sandhill Crane migration viewing and related activities. The Crane Trust's private Legacy Cottages are situated on 5,600 beautiful acres of native tall and mixed-grass prairie and wetland meadows. Each experience is unique, designed to foster positive, lifelong connections to one of the greatest wildlife phenomena in North America.
The Crane Trust VIP Crane Safari is designed for individuals and small groups as well as larger sponsored groups.
The Crane Trust Safari is available to organizations looking to provide a unique experience for their customers/members and includes guides, lodging for 12-24 guests, meals and beverages, Sandhill Crane migration viewing, nature programs & social activities.
Guests will find themselves viewing the migration through a heated private VIP blind situated along the river by the largest Sandhill Crane roost in the world at sunrise and sunset. Included in the Safari itinerary is box lunch and guided excursion to rare private prairie, historic sites and viewing of our genetically-pure American bison herd, all while learning about the ecology of the surrounding habitat and wildlife. Guests are also welcome to avail themselves of prairie hiking, photography and birding.  We also encourage guest to explore the area via the country roads to see the cranes dancing and foraging in the fields.
What To Expect:
Day One
Arrival: 3:30PM at the Nature & Visitor Center
Evening crane viewing + dinner
Day Two
Morning crane viewing + breakfast
Lunch + Excursion
Evening crane viewing + dinner
Day Three
Morning crane viewing + breakfast
Departure: 10AM
Requirements: Guests must be 18 or older to attend and be able to walk ¼ mile across uneven grassland terrain without assistance.
VIP Crane Safari Cancellation Policy.
The Safaris for large groups are available on a limited basis only during the spring migration and are scheduled on a first-come, first-served basis. Reservations are required and must be made well in advance of migration season.
The Crane Trust also offers a one-night VIP Crane Experience.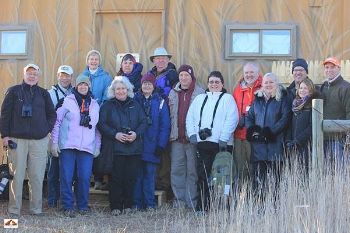 For more information, please call (308) 833-3808 or email reservations@cranetrust.org