VIP Guest Information
Below you will find all the information relevant to your upcoming stay. We look forward to seeing you soon!
VIP tours are offered first to our donors and members, beginning in late summer. The remaining VIP tours will then be made available to others on a first-come, first-served basis. To inquire, please contact reservations@cranetrust.org or 308.833.3808.
1 Night Crane Viewing Experience Itinerary
2 Night Crane Safari Itinerary
Airport Information
There are four airports within a few hours drive of the Crane Trust:
Omaha Eppley Airport (OMA) : 2+ hours
Lincoln Airport (LNK) : 90 minutes
Kearney Airport (EAR) : 40 minutes
Grand Island Central Nebraska Regional Airport (GRI) : 25 minutes
Arrival Time: Check in at the Crane Trust Nature and Visitor Center between 2:45 and 3:45pm
Check-in Location: 9325 S Alda Road, Wood River, NE 68883
Things To Do
If you arrive early for check in, you will have the opportunity to explore our Nature and Visitor Center. You'll have full access to the Center and roughly 10 miles of nature trails along the Platte River. Here you'll find an impressive array of wildlife art and photography on display and for sale in the Hornady Art Gallery and many unique souvenirs in the Crimson Crown Gift Shop. And when you venture outside, you'll encounter our rare, genetically-pure herd of American bison. Vast herds of American bison once co-existed with the cranes before settlement and were instrumental in shaping this critical habitat along the Platte River for cranes and other wildlife.
For other attractions in the Grand Island area, click HERE.
How to Dress
Average temperatures in Nebraska range from 20-40˚F in March, and can change unexpectedly. You'll need to be prepared for a variety of conditions. Riverfront blinds, overnight accommodations, and dining areas are all comfortably heated. Activities take place both indoors and outdoors. Please bring clothing layers and sturdy, warm, comfortable shoes.
Please wear dark-colored clothing. Light colors may spook the cranes.
• Wear and bring more layers than you think you'll need!
• Cold weather clothing: heavy coat, knit cap, gloves, wool socks, and thermal underwear.
• Hiking boots or sturdy shoes (preferably waterproof as trails can be muddy).
• Rain jacket or other waterproof outerwear
Access to the riverfront blinds requires walking one quarter mile over uneven outdoor terrain in all conditions and in low light. If you have any concerns about these conditions for participation, please contact us before booking.
Check the latest weather conditions before your visit.
Equipment to Bring
Bring your camera, binoculars or video equipment if you have them. No flash photography allowed in the viewing blind. Due to limited space, tripods are not allowed (monopods are permitted). A telephoto lens is recommended for photographing cranes and other wildlife.
If your primary purpose is to photograph the cranes using a video, Digital SLR, or mirrorless camera with a tripod, please consider our Photo Experiences.
What's Provided
Comfortable accommodations. Crane Trust's Wild Rose Ranch Legacy Cottages offer private bedrooms, each with its own bathroom. The shared spaces include a patio and a central room with a table and chairs, mini fridge, and coffee maker. The Bay Family Suite includes a full-size fridge, coffee maker and dock with fire pit over the pond.
Fresh linens and bath towels/wash cloths
All meals (with vegetarian option) and beverages (alcoholic and non-alcoholic) during scheduled activities, along with fresh fruit and snacks*
Ground transportation is provided from the Grand Island Airport only
Guided crane viewing in the Crane Trust's private VIP Pietrok Family blinds in the evening and morning 
* We try to accommodate most food allergies and sensitivities. You are welcome to bring supplemental foods to meet your nutritional needs.
At Your Service
Upon your arrival at the Crane Trust Nature & Visitor Center, please proceed to the front desk to check in and receive instructions. Shortly before 4:00, you will join a caravan, led by our staff, to drive three short miles to the Crane Trust private lands. You'll have some time to settle into your cottage before meeting additional staff as your experience gets underway.
---
Surroundings & Accommodations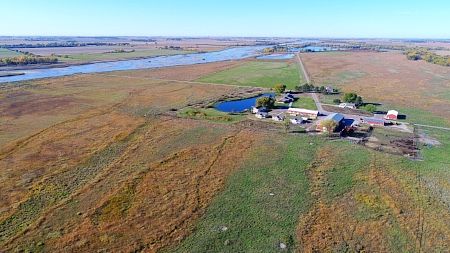 The Crane Trust's Wild Rose Ranch is located in south-central Nebraska on 5,600 continuous acres of lowland tall grass prairie and wet meadows that are owned and managed by the Crane Trust. This rare ecosystem includes an uninterrupted seven-mile stretch of the historic Platte River, which has been preserved by the Crane Trust to mirror the unique and extraordinary habitat that has been used by the endangered whooping crane and three sub-species of sandhill cranes for millennia.
The Wild Rose Ranch is a working ranch for crane habitat. The main ranch facility includes the headquarters office, Lauritzen, Union Bank & Trust and Hastings College Cottages, Bay Family Suites, research laboratory, bunkhouse, premium meeting/dining facilities, outdoor deck and observation platform with breathtaking views of the tallgrass prairie and Platte River waterway. Your premium crane-viewing Pietrok Family VIP Blind is within a mile of the cottages.
Private accommodations in the Lauritzen, Union Bank & Trust and Hastings College Cottages include comfortable lodging with private sleeping rooms and bathrooms, shared common area, kitchenette and television. The Bay Family Suites have two adjoining suites each featuring a king bed, dual sink bathroom, kitchenette, family room leading to a dock with fire pit on the pond.
The Crane Trust's Wild Rose Ranch is a smoke-free environment.
Lauritzen, Union Bank & Trust, and Hastings College Cottages
The Bay Family Suites
Questions? Please email reservations@cranetrust.org or call 308.833.3808.