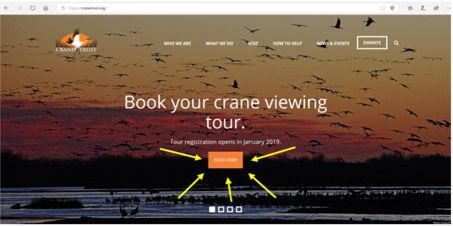 The Crane Trust Nature and Visitor Center will open our tour bookings for the spring Sandhill Crane Migration on January 4, 2019.  Crane Trust Members can book starting January 1, 2019. To book a tour, go to our website https://cranetrust.org/ and click the orange button in the middle that says BOOK NOW.
You will have the option of booking a Morning Blind Tour, an Evening Blind Tour, an Overnight Photography Blind, or a Footbridge Tour.
Something we have added this year is our Membership Program.  By becoming a Member of the Crane Trust Nature and Visitor Center, you are helping support:
Free tours and educational programs for youth organizations
Trail and bridge maintenance
Crane viewing blinds upkeep and maintenance
Keeping the river cleared for the largest roost of Sandhill Cranes in the world
Of course, becoming a member comes with benefits including:
10% off purchases at the Crimson Crown Gift Shop
$5 discount on your crane viewing tour at the Crane Trust Nature and Visitor Center
Priority crane viewing tour registration to beat the rush and pick the most ideal dates
To become a member and show your support, go to https://cranetrust.org/member After becoming a member, you will receive a confirmation email with the promotional code to receive your discount on crane viewing tours and information on booking early.  
Call us with any questions at 308-382-1820.