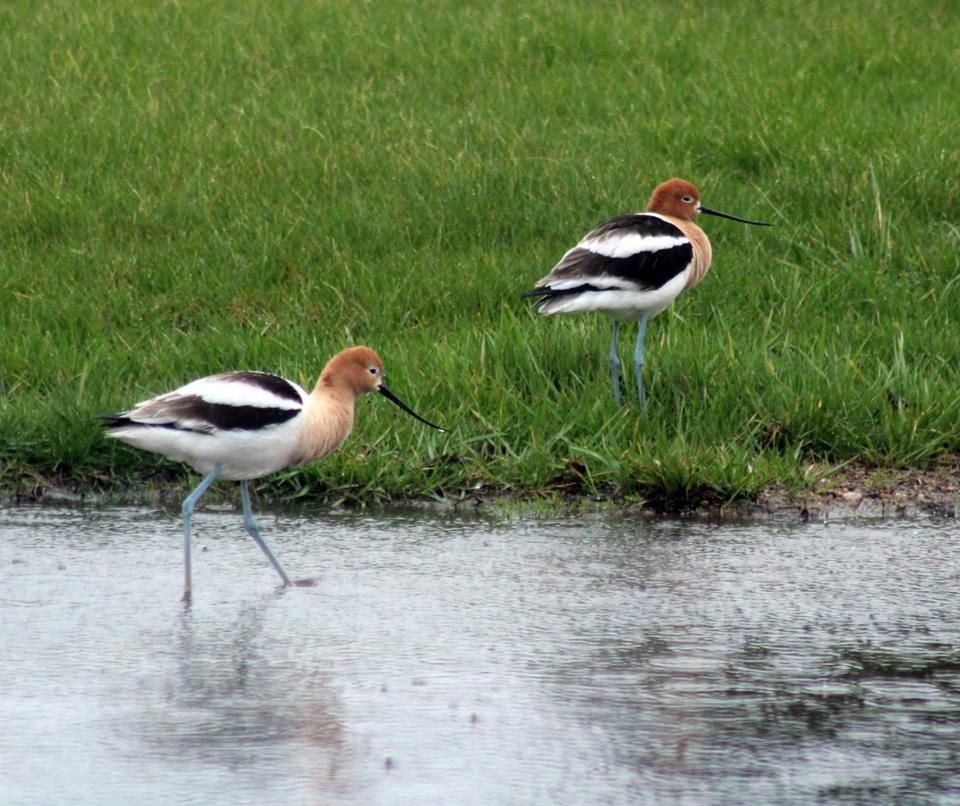 Happy World Migratory Bird Day (WMBD), a celebration of migratory birds and their spectacular journeys! WMBD is an international education event focused on the nearly 350 bird species that travel between their nesting habitats in North America and wintering grounds in Latin America and the Caribbean. The Crane Trust is particularly well-positioned for this event due to our location on the Central Flyway, one of the largest bird migration corridors on Earth. In addition to our beloved cranes, nearly 20 million migratory birds pass through here each year. Over the last few weeks, swallows, warblers, orioles, bobolinks, and many other beautiful birds have been showing up at the Crane Trust. Pictured here is the American Avocet, a particularly striking shorebird that winters on the Gulf of Mexico and stops here on its spring migration to its breeding grounds, which include northeast Nebraska.
Through its 2019 theme, "Protect birds: Be the solution to plastic pollution," WMBD is raising awareness about the ways that plastics harm birds and offering ideas for ways to reduce our plastic use. Since its invention in the 1950s, we have created over 8 billion metric tons of plastic but recycle only about 9% of it, leaving more than 6 billion metric tons of plastics in landfills and the environment. As our use of plastic grows, so does the amount of plastic pollution around the world. "Plastic debris such as fishing line poses a serious risk of entangling birds, which can entrap them and cause serious injury," says Dr. Susan Bonfield, Director of Environment for the Americas. Migratory birds also have a high risk of directly ingesting plastics, which pose hazards throughout the food chain due to the toxins they concentrate in the environment. As we learn about plastic pollution and other threats to birds, we have an opportunity to make changes that help birds, both personally and more broadly. We can pledge to consume less plastic, recycle more plastic, and join with others to get outdoors, remove plastics from the environment, and take other actions for bird conservation.
In celebration of World Migratory Bird Day and Nebraska Bird Month, we at the Crane Trust invite members of the public to our annual spring bird count on Tuesday, May 14th 2019. We will meet at 6:30 am at the Crane Trust's main campus parking lot (6611 W Whooping Crane Drive, Wood River, Nebraska 68883), where we will split into teams to count birds in a variety of habitats until 10:30 am or 11:00 am. Please contact Andrew Caven at acaven(at)cranetrust.org with any questions or to let us know you will attend. For more information about WMBD, birds, plastics, and free downloadable materials please visit the WMBD website.