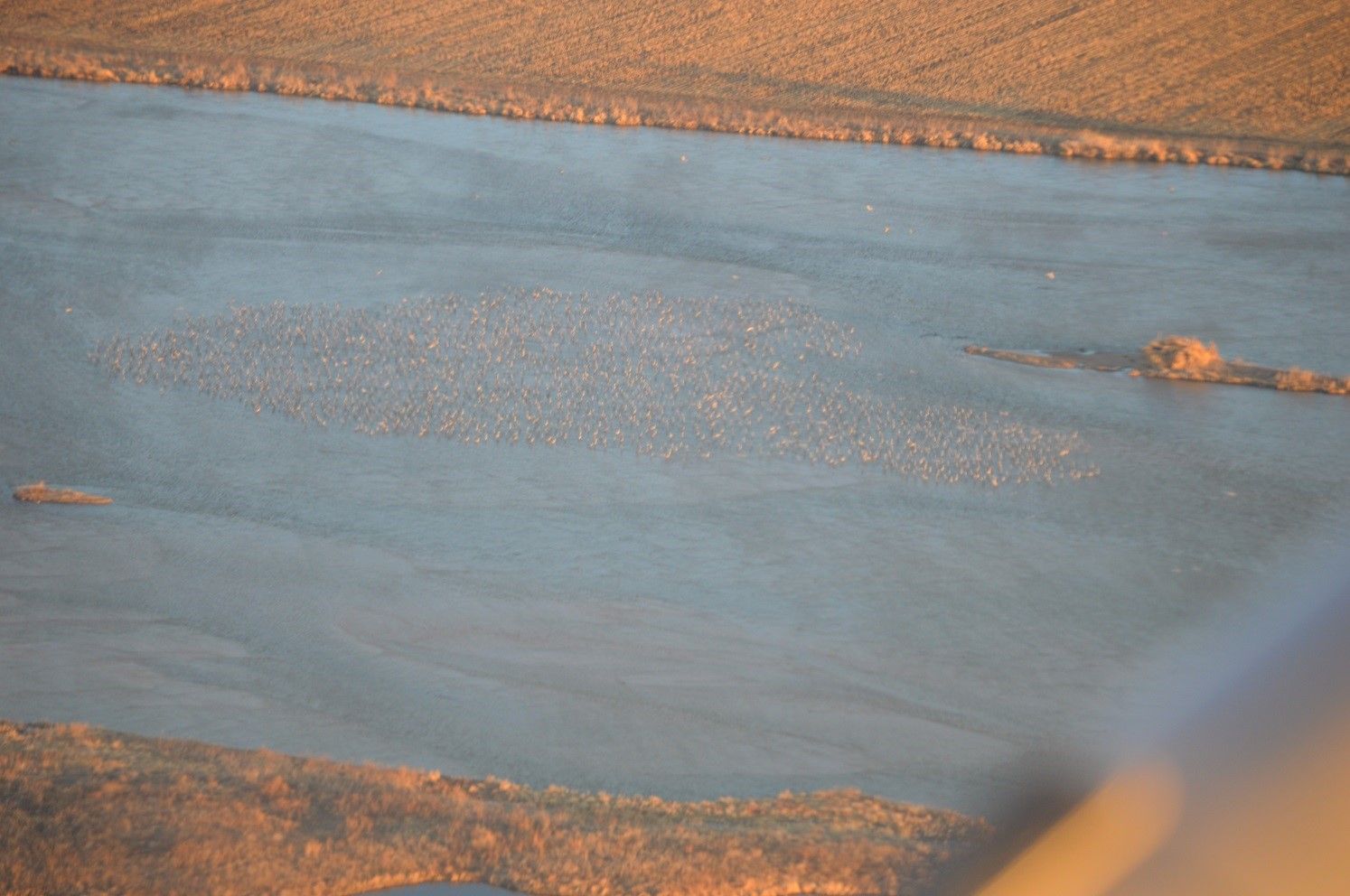 On 12 March 2020 we counted a raw estimate of 541,000 Sandhill Cranes. The survey was actually out of parameter for wind, but we decided to continue anyways as the long-term forecast looked poor for flights over the next ten days. In actuality, this morning (13 March) was pretty good, but it looked like a good candidate for morning fog via the forecast yesterday. This is my 6th year conducting the aerial surveys for the Crane Trust and I have conducted over 55 such surveys; this was one of the two bumpiest rides I have had. Our pilot did an amazing job, but the air was unstable and we had winds of up to 35 mph out of the north. In fact, the Platte River Recovery Implementation Program discontinued one of their two aerial Whooping Crane surveys prematurely due to wind. In any case, this data is in our database as "out of parameter", but I figured some data was better than nothing. Because of the bumpiness only one photo series was clear enough to complete a photo-subplot for bias estimation. I was -33.6% on that one group. Given the insufficient sample of photo-subplots our estimate from yesterday does not include confidence intervals and has not been adjusted for bias. Therefore, the 541,000 can be seen as a minimum, and if all my estimates were about –30% low (but they are usually not that bad) there could be ~700,000 in the Central Platte River Valley (CPRV) right now via our survey method, but that is a pretty rough guess. This is likely close to peak abundance via our database.
As I mention regularly, our database is an index of abundance, it actually does not cover the whole area where Sandhill Cranes roost in Nebraska and has a relatively narrow survey area encompassing the main channel of the Platte River and adjacent meadows and corn fields. We recently undertook some research to estimate the total abundance of Sandhill Cranes in Nebraska at the peak of migration, which included both the North Platte River Valley (NPRV) and the CPRV, using data from four different sources that were published or maintained by the US Fish and Wildlife Service, US Geological Survey, the Crane Trust, and the Rainwater Basin Joint Venture from 2000 to 2019. To see this research, please follow this link < https://digitalcommons.unl.edu/tnas/523/ > to the Transactions of the Nebraska Academy of Sciences web page, which published this work. This research suggests that there were between 1.1 and 1.4 million Sandhill Cranes in Nebraska at the peak of spring migration in both 2018 and 2019, with the most likely point-estimate being 1.27 million cranes with 1,050,000 in the CPRV and 220,000 in the NPRV. This research demonstrates that the Crane Trust database produces a bias-adjusted peak estimate that is often about 40% low; however, it also demonstrates that our data is a useful indicator of when peak migration occurs (a.k.a. "migration chronology"). In short, there are a lot of Cranes in the CPRV at the moment. Adjusting our counts based on the findings from our recent paper there could be between 760,000 (based off our raw estimate of 541,000) and 980,000 (based off our ROUGH guess of ~700,000 from our one photo-subplot) in the CPRV at the moment.  
As many of you have heard, we have closed our public and VIP tours for the 2020 spring migration due to the Coronavirus (COVID-19) pandemic. We plan to keep posting our crane counts as well as additional social media to share the migration with everyone, even though the public cannot be here physically. As you know, this is an important time of year for us to outreach to the public and raise funds for our conservation mission. Your support funds our research, land management, land protection, and community outreach activities. These efforts are essential to protecting one of the world's last great migrations –the Sandhill Crane spring staging phenomenon– as well as critical Whooping Crane stopover habitat, and wet meadows and lowland tallgrass prairies that supports an immense number and diversity of waterbirds and grassland birds as they migrate through and breed in the CPRV each year. We protect the largest tract of lowland tallgrass prairie and wet meadow remaining within the Big Bend Reach of the Platte River, which in total supports over 500 species of vascular plants as well. To this end, I humbly ask you to consider supporting our work this year as we are expecting a relatively large budget shortfall given the current tourism situation. If you would like to donate, please give via our website at https://cranetrust.org/how-to-help/. Thank you for your help! We wish everyone a safe and healthy spring. Stay tuned for more crane updates and you can check out all of our research at https://cranetrust.org/what-we-do/conservation/research/.