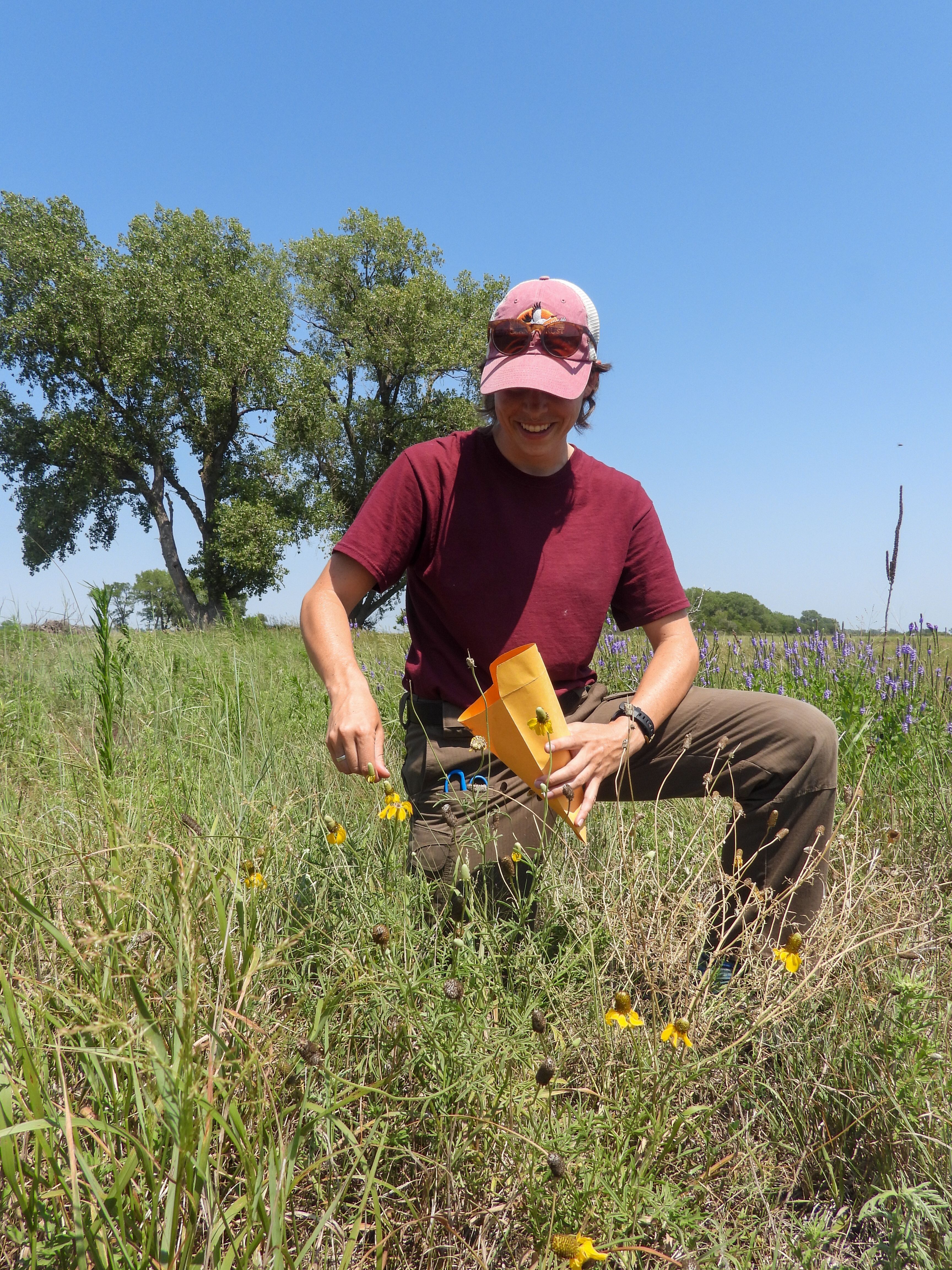 Hi, it's Charlie, the Crane Trust Saunders Conservation Fellow! As summer chugs along on the prairie, many native flowering plants have begun to bloom and produce seeds!  Now and heading into the fall at the Crane Trust, we will spend time collecting locally important native plant seeds to disperse across different sectors of the prairie. 
One of the places we like to search for some awesome plant seeds is in pieces of relic prairie (which have never been tilled). When we find beneficial plants and flowers here, we'll gather seeds to save and spread later or grow in our greenhouse. These seeds include things like Prairie Gentian (Eustoma grandiflora), False Gromwell (Onosmodium molle), Prairie Coneflower (Ratibida columnifera), Blazing Star (Liatris lancifolia), and Purple Prairie Clover (Dalea purpurea). This time of year, our bags and pockets overflow with the abundance of seeds we can gather!
A big part of the Crane Trust's long-term prairie restoration plan is to work to establish a diversity of important plants - especially in spots that have a history of agricultural use and that may have lost a lot of species diversity. Many pieces of land in the Central Platter River Valley and surrounding landscape have been also been seeded in the past with exotic grasses like Smooth Brome (Bromus inermis) and Tall Fescue (Schedonorus arundinaceus) for livestock grazing.
After collecting and adding to our large and growing seed bank, a few methods can be used to get the seeds spread back out onto the land. A drop seeder scatters seeds on top of the ground in places that are advantageous to their germination and growth. Another way is to use equipment that actually drives the seeds into the soil. Timed mowing and grazing of tall prairie grasses can also help, giving seeds more space and light to get started. 
Being outside in the tallgrass prairie from early spring into summer, it's awesome to witness the wide spectrum of plants growing, flowering, and seeding at different times - each dependent upon their own relationship to location, weather, soil differences, and many other factors. It's also been very cool getting to see Crane Trust plots that were seeded with native flowering plants years ago succeeding. I'm excited to continue this project throughout the year and see the huge prairie diversity!
Interested in helping collect seeds with the Crane Trust? Fill out the volunteer form below and keep an eye out for upcoming seed collecting days!
Volunteer Form: How To Help: Crane Trust
Until next time,
Charlie, Crane Trust Saunders Conservation Fellow