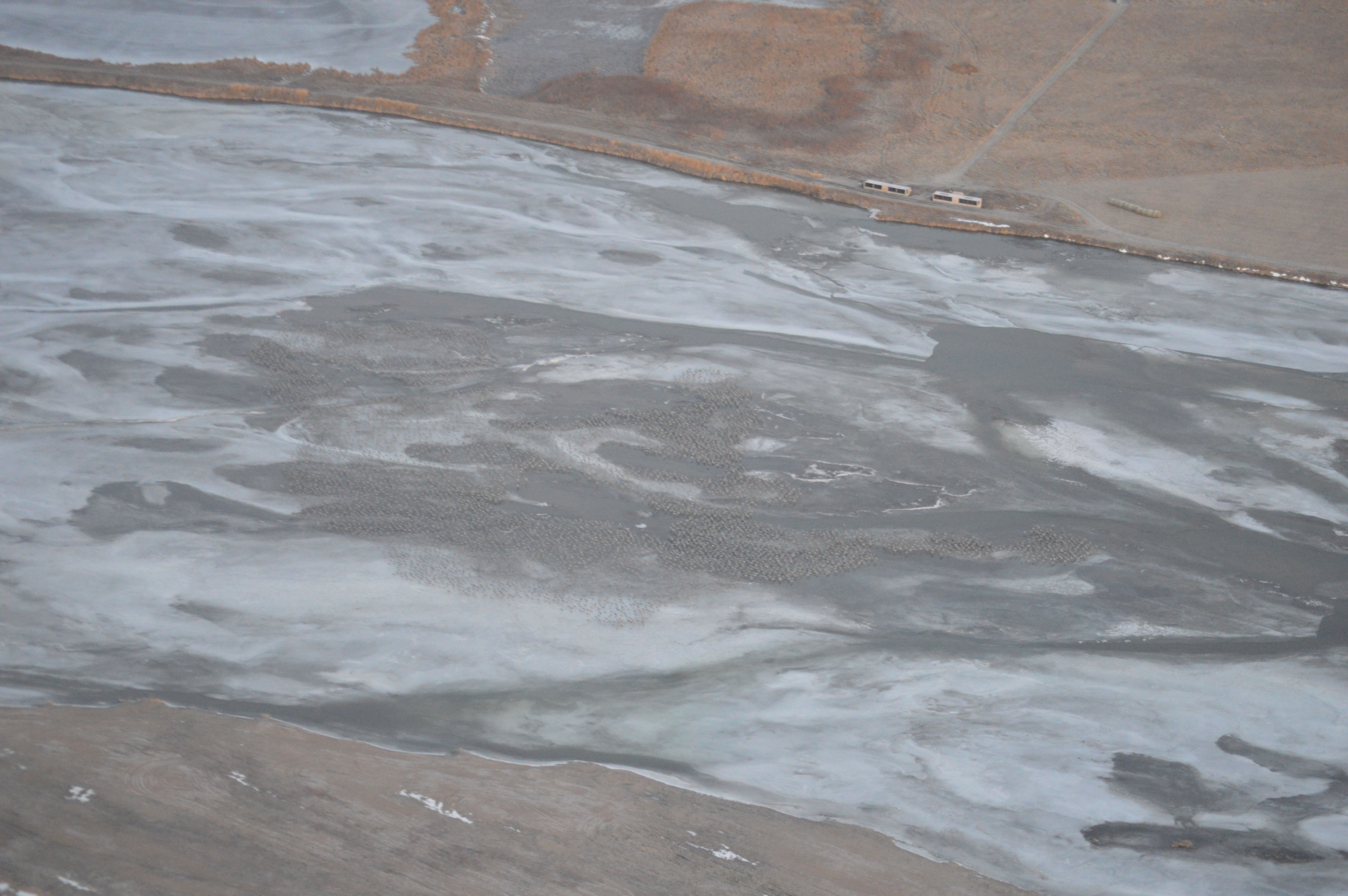 They're back!
On February 13th 2023, we counted an estimated 6,400±900 Sandhill Cranes in the Central Platte River Valley between Chapman and Overton, Nebraska. All the Sandhill Cranes were in roosts by Mormon and Shoemaker Island between Highway 281 and the S. Alda Rd. bridge. This week's estimates are definitely a current minimum as after returning from the flight we saw more flocks coming to the river, possibly a small push before the snowy weather came through Wednesday night into Thursday. Our research shows that drought in the wintering grounds is likely to lead to an earlier crane migration. Last year was a great example of this as there was substantial drought throughout parts New Mexico and Texas and we had 27,425±645 Sandhill Cranes on 2/14/22. This year, the areas of drought are much less expansive and less severe in the wintering states and we have an average number of cranes for our first week (typically between 4,000 to 8,000 in past years). Many other factors will play into the timing of the rest of migration, such as weather, temperatures, and wind in the flyway, but it looks like we can look forward to a typical awe-inspiring spectacle once again!
We also counted 56,207 dark geese (Canada Geese, Greater White-fronted Geese, and Cackling Geese), 33 Trumpeter Swans, and 4 Bald Eagles. Geese were fairly well spread throughout the river valley but about 2/5th of the counted geese were between Elm Creek and Overton.
Background and Protocol:
Since 1998, the Crane Trust has conducted aerial Sandhill Crane surveys during the spring migration. Once a week for 10 weeks, we fly along the river at a low altitude from Chapman to Overton (or Overton to Chapman during the last few weeks of migration) estimating Sandhill Crane roost numbers along the whole stretch. In order to get reliable estimates, we take photos of roosts throughout the flight (like the one included). After the flight we go through the photos and count every individual crane then compare the actual number of cranes to our estimated number for that roost. This allows us to calculate a bias corrected estimate with confidence intervals because an exact number of cranes in the area is nearly impossible to provide. This video by Platte Basin Timelapse provides a great summary of our "Counting Cranes" process.