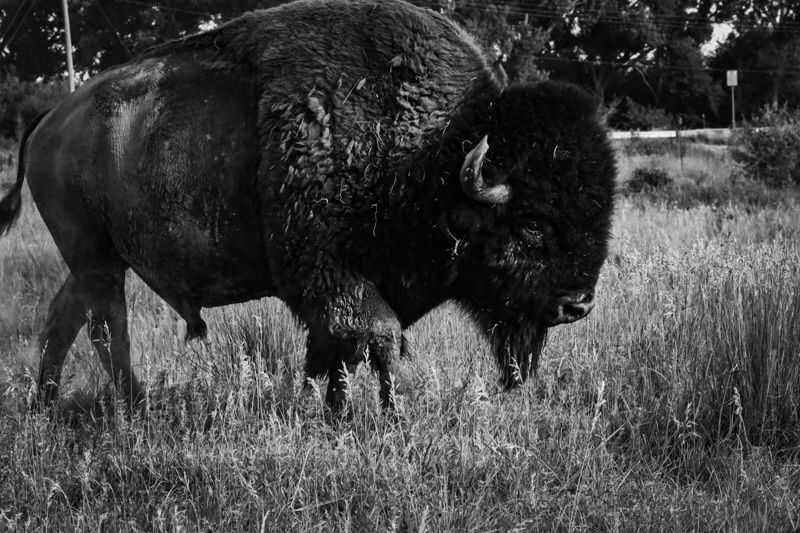 Photo By Mallory Beckmann
Hi everyone, Matt Urbanski, Saunders Conservation Fellow here.
This month is National Bison Month! As it comes to a close, I would like to provide you with a description of what has been going on with our bison herd at the Crane Trust this July.
This month our land management team moved our herd to Ruge and South Brown pastures, resting our other bison pastures (Big Slough, East Office, and Calving pasture) until September. Grazing in Ruge and South Brown will encourage wildflower growth by taking out some herbaceous grasses and sedges that compete with these flowers for space, sunlight, and nutrients. This rotational grazing practice that we do with our bison is part of our adaptive management. Having a variety of grazing versus resting at different times of the year promotes growth of a larger variety of plant species in our prairies and wet meadows.
As of July 21st, our calf count has reached 47, bringing a cinnamon color to the prairie. July has also been the start of the rut. This is when males integrate into the herd in order to compete for the right to mate. Males will wallow, bellow, and fight each other throughout the rut to display their dominance. Once mating season is over the bulls leave the herd to rest and eat in preparation for next year's rut. While all of this has been going on Mallory Beckmann, our new Range Technician, has treated six individuals for pink eye, one calf for a limp, and was happy to see an absence of foot rot this season. When treating pink eye each bison receives around one cc of Draxxin per 100 pounds bodyweight. Calves are given three ccs, yearlings five to seven ccs (depending on age), mature cows 10ccs, and mature bulls 20ccs.
We have given virtual and in-person bison tours this month. One of our in-person tours was an auction item for CHI Health and First Responders. On these tours our visitors take a hayrack ride or a couple company vehicles through our pastures. As they ride through the prairie our staff is there to answer any questions and share what they know about our bison and other related topics. Our two virtual tours provide footage of our bison, an expert to answer questions from our audience, and a new perspective on the interconnected nature of our land. Our first virtual tour was open to the public and featured Josh Wiese, Range Manager. The second was only for our supporting members featuring Tim Smith, Director of Land Management. Our supporting members get access to our River Cam Livestream, other exclusive virtual tours, and priority bookings for tours in March. If you would like to become a member sign up using this link.
In the next couple weeks, we will be starting our end-of-growing-season fecal parasite monitoring. This biyearly sampling helps us keep a pulse on which individuals have what parasites, how large their parasitic loads are, and if the parasites are affecting the bison's health. We will also begin preparing for our annual bison working. Before working the bison we have to make decisions for herd management, round up all the gear, and perform general maintenance to prepare our working facilities. While working the bison in November, we will perform health checks, tag new individuals, and gather genetic material from the new calves.
I hope you enjoyed learning how we manage our bison in July and what we will be doing in the coming months.
Matt Urbanski, Saunders Conservation Fellow
Have questions? Email me at murbanski@cranetrust.org!