"I strongly recommend this workshop to you if you enjoy photography and want to learn more about both photography and the amazing Sandhill Crane migration. The shooting is fun, the workshop sessions are excellent, the meals are substantial and tasty, and the lodging is comfortable and clean. The staff is welcoming and friendly.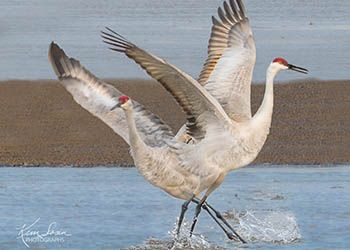 The antics of the cranes are highly photogenic! In this workshop, I expanded my ability to take photographs under a variety of conditions, sometimes with quite challenging lighting. Each morning, shooting starts in the dark and extends through sunrise hours; each night, shooting starts before the cranes settle on the river and extends through sunset and into the dark, so picture photographing dancing cranes in the semi-dark (your reward is shooting them in the sunrise)! Nebraska sunrises and sunsets are often highly dramatic – a photo show in themselves! And when the shooting is over, the workshop talks about cranes, photography, and photo editing were exactly on point, useful, and interesting. Instructors also provide a lot of individual advice and attention. I came away with higher standards and new abilities."
– Kim Sosin, Omaha
---
"I can say this is my second very extraordinary experience in my photo shooting history. The first one is the big migration in Africia, and the second is this one, the crane migration.
If you asked me, during my photo shooting experience in the past 30-40 years, this is one of the most intriguing experience in my life. My friend, this is a once in a lifetime experience, don't miss it.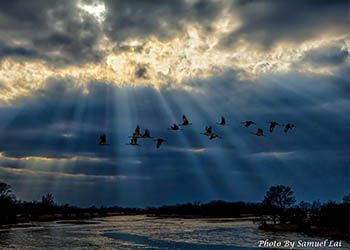 It was a great week, joining the first Crane Photo Workshop. Everything was well organised. Both the staff and the photo instructors were so friendly and helpful. Taking photos of such a stunning phenomenon of sand-hills crane big migration was once in a life time experience. One must try it. The accommodation, the food and the blinds were great. The only regret was the weather, but you just can't control it. With good weather and enough sunlight, you don't need to jack up the ISO that may bring a lot of noise to your photos. Never give up, I may go again next year and hope for the best then."
– Samuel Lai, Hong Kong 
---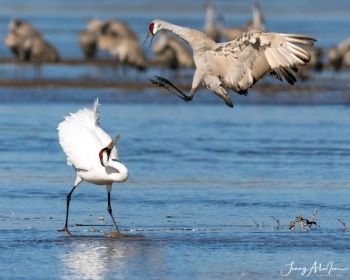 "These workshops are great! I've attended three years in a row and each time I've learned so much. Cheryl is an excellent teacher, providing instruction on both the technical and creative aspects of photography. Classes are specific to Sandhill Cranes, and the custom photo blinds are perfectly designed and positioned to capture the biggest roost in the region. The Crane Trust staff is wonderful, plus onsite accommodations and meals maximize the time to learn and photograph. It's an experience I won't forget and the images I took home were spectacular."
– Jenny McIvor, Papillion -- 2017, 2018, and 2019 participant
TO SIGN UP, PLEASE CALL 303.829.9453 OR EMAIL info@cherylopperman.com