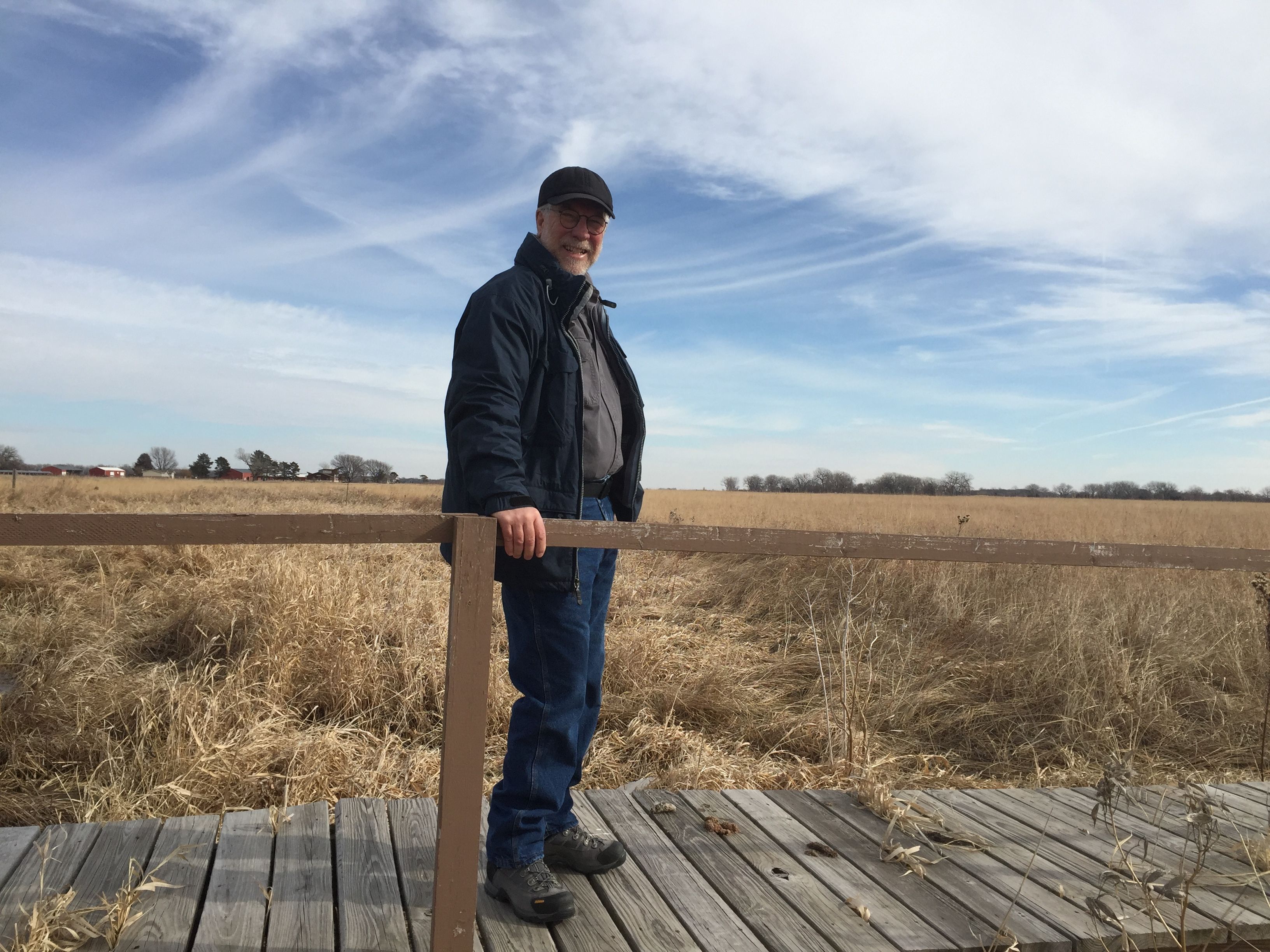 Crane Trust volunteer guide Rich Johnson grew up south of Red Cloud, home of Willa Cather, the acclaimed author who documented the lives of European settlers in the Great Plains in books such as O Pioneers! and My Ántonia. As a truck driver, Rich traveled all over America seeing beautiful places such as the Mohave Desert, Zion National Park, and Savannah, Georgia and bicycling all over the country as he went. He also spent 20 years as a school counselor and now serves as a volunteer firefighter, an advocate for children in foster care through CASA, and volunteer with Fontenelle Forest's Raptor Recovery program, which works to rehabilitate sick or injured eagles, owls, and hawks.
What Rich loves most about being a crane guide, he says, is meeting so many people with similar interests in birds and conservation. He places great value on scientific research and its importance in guiding our decisions and actions. Just as important, he believes, is using effective communication to explain scientific discoveries and their benefits to the public. For example, animals have inspired many technologies useful to humans, such as flight and down jackets. Bird migration, in particular, has long fascinated and perplexed people, and we are just beginning to understand the evolution of migration.
Technological advances have allowed us to understand the natural world now in ways never before possible. For example, Crane Trust scientists fitted Bobolinks with light-level geolocators, tiny devices birds carry as a backpack that tracks and record their migrations. In this way, we learned that one of "our" Bobolinks flew south for the winter through Florida, across the Caribbean Sea into South American through Colombia. He then flew across the Amazon Basin in Brazil and through Bolivia to southern Paraguay, where he spent the winter.
The journey of the Crane Trust Bobolink is featured in the March 2018 issue of National Geographic and shown in the map illustrating bird migration through our hemisphere. In the spring, the Bobolink followed a similar route north to return to the Crane Trust for the summer, where he was recaptured, allowing scientists to collect the data from the geolocator he carried all that way. Other research with geolocators and Bobolinks has allowed us to see how they travel up to 3500 kilometers in autumn, sometimes flying nonstop.
When we go to the doctor, Rich points out, we are seeking science-based solutions for our health; shouldn't we do the same when taking care of our country and the health of the world in which we live? In a time where we are witness to wildlife declines and a rapidly changing climate, this has never been more important. Rich notes that he used to drive down country roads and see meadowlarks, bluebirds, and other birds in abundance, but that there are noticeably fewer of them now. New research shows that about 40% of the world's bird species are declining as a result of human activities, including a large proportion of American birds; migratory birds in grasslands, like our Bobolink, are some of the species that most urgently need conservation attention. This highlights the importance of our conservation mission at the Crane Trust, where, with the help of wonderful volunteers like Rich, we work together on research and conservation along the Platte River, which is so important for both people and birds.